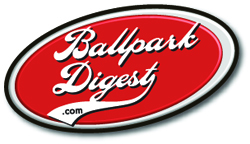 A group is pitching a 8,000-plus-capacity ballpark in Shakopee, located in the southwest quadrant of the Twin Cities, raising money via traditional investors and crowdsourcing.
The plan for a proposed Shakopee Metro Millers ballpark would place a new facility adjacent to Canterbury Park, which features live horse racing, off-track betting and casino and poker games. While focused on baseball, the ballpark could potentially host a variety of other events and be designed to support a dome in the future. There are plans for a 2021 opening, providing the financing is successful. From Shakopee Valley News:
Rep. Brad Tabke, D-Shakopee, who started working as a media relations consultant for the team about two years ago through his consulting company, Grepoli Inc., presented the plans to Shakopee residents Thursday, who sat at tables taking notes and munching on giant pretzels….
Tabke said the proposed Shakopee Metro Millers stadium would house 1,140 luxury club seats, 3,092 priority club seats, 1,880 grand stand seats and 1,000 spots for viewers to watch in the grass. It would be located in the city's RiverSouth entertainment district, and could also house soccer, lacrosse, BMX racing, concerts, hockey games and other events. The structure will be built with the possibility of adding a potential dome roof in the future, but the plans do not currently include a dome structure.
Although the Minneapolis Millers used to be a minor league baseball team akin to the St. Paul Saints, Tabke said Metro Millers isn't yet sure what league the team would belong to.
"We're working on getting everything done for the stadium to see if there's a fan base first," Tabke said in an interview last week.
You can view plans for the ballpark here.
There have been several plans for a pro or summer-collegiate ballpark floated for the southern Minneapolis-St. Paul suburbs, first in 2008 for neighboring Burnsville and later in adjoining Lakeville for indy teams. In addition, there were later discussions of a summer-collegiate ballpark at the Canterbury Park complex, but those plans never reached fruition. Shakopee has been a high-growth area in recent years, attracting an Amazon warehouse as well as other high-tech firms like Seagate and Shutterfly.
The proposal is just that: a proposal with no major financials behind it. At a capacity of 8,496, it would make for a large independent American Association ballpark or a very large summer-collegiate Northwoods League ballpark.