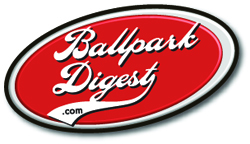 We have some changes to report at Ballpark Digest: We're happy to report that Zach Spedden joins August Publications today as the full-time managing editor of all our sports websites.
Most of you have probably seen Zach's bylines on Ballpark Digest and our other sites over the last year, as he first joined us as a dedicated Promotions Watch columnist. Since then he's done additional writing for our other sports sites — Arena Digest, Soccer Stadium Digest, Football Stadium Digest, Spring Training Online — and quite honestly worked his way into a full-time position. He graduated with a journalism degree from the University of Massachusetts Amherst in February 2014, and a Master of Arts in Emerging Media from the University of Loyola Maryland's Master of Arts in Emerging Media in September 2015.
Zach will continue with the weekly Promotions Watch column, and he'll be writing more for the other sites as well. Also, perhaps more importantly as far as I am concerned, Zach will be helping behind the scenes, working with other writers and help plan out more ambitious coverage in coming months in a few new projects we have in the works.