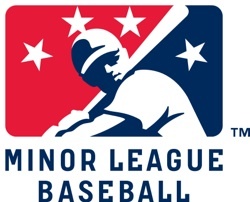 With the Minor League Baseball season almost over, the pace-of-play rule changes for Triple-A and Double-A have shortened games at both levels, but otherwise have not intruded on the game.
This season we've been to more MiLB games than ever before, and we've not run across a situation where a game was truly impacted by new rules designed to keep batters in the box between pitches, shorten the time between innings and prod pitchers to deliver the ball quicker to the plate. Some of the rules were implemented at the Major League Baseball level; all were implemented at Triple-A and Double-A leagues.
Wee didn't see any negative effects in the games we attended, and that consensus seems to be that the rules were a success.
Indeed, all Triple-A and Double-A leagues reported shorter games. International League games are shorter by 15 minutes: 2:56 in 2014 down to 2:41 this season. Pacific Coast League games are shorter by 12 minutes: 2:58 in 2014 down to 2:45 this season. Eastern League games are shorter by 12 minutes: 2:50 in 2014 to 2:38 this season. Southern League games are shorter by 11 minutes: 2:52 in 2014 to 2:41 this season. And Texas League games are shorter by five minutes: 2:51 in 2014 to 2:46 this season.
With all five leagues basically at 2:45 or faster this season, it's clear the pace-of-game rules have had an impact. And MiLB President/CEO Pat O'Conner says that impact is positive, per The New York Times:
"Pace is important," O'Conner said. "We're dealing with a clientele now that their whole life is about pace."
As Rob Manfred, the new commissioner of Major League Baseball, prophetically told reporters during spring training: "I'm really intent on the idea that we're going to have an average game time that's going to start with a 'two' next year as opposed to a 'three.' "
The issue now for both MiLB and MLB is how far to take the pace-of-play rules. There are some major leaguers who don't want to see the MiLB rules implemented in MLB ballparks:
The pitch clock has already created a difference of opinion between Manfred and Tony Clark, the head of the players' union. At separate question-and-answer sessions before this year's All-Star Game, Manfred said he thought pitch clocks could be "useful" in the majors, while Clark countered that it could be "dangerous" to introduce such a significant change to the way the game is played at the highest level.
There's also an issue of implementing the rules in Single-A parks: O'Conner says concerns with finding people to operate the clocks led the decision to limit the experiment to Double-A and Triple-A this season. This isn't an insurmountable issue, however.
RELATED STORIES: Pace of play: A huge change for 2015; MiLB unveils pace of play rules for AA, AAA games