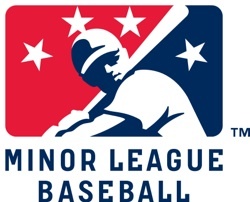 For many an important onlooker, the most anticipated (and scrutinized) day of the 2015 Minor League Baseball calendar won't be Opening Day, Thursday, April 9. Instead, it will be Friday, May 1, the day that pace-of-play directives begin receiving strict enforcement at the Double-A and Triple-A levels.
This week, those directives were released to Double-A and Triple-A teams in the form of five pages of "2015 Pace of Game Regulations." April is the learning period; May 1st is go-time.
Let's discuss.
The schedule is tight and rigorous. (You can view the entire list of changes here.) Three digital timers have been installed in each Double-A and Triple-A ballpark, one toward each dugout behind home plate and one in the outfield, allowing all players/umpires a convenient look. Time will be kept strictly from inning to inning, at-bat to at-bat, and pitch to pitch.
Take a pitching change, which is treated the same as an inning break. A countdown of two minutes and 25 seconds is given. Action begins about two minutes in: The last warm-up pitch is to be thrown no later than the 30-second mark; the last strains of walk-up music must fade away at the 25-second mark; any entertainment or in-between inning fun must be shooed off the field at the 20-second mark; and the batter and pitcher are given the final 20 seconds to engage. If the clock reaches five seconds and the batter still isn't ready, an automatic strike is charged, and the count begins at 0-and-1. If the clock runs out on the pitcher, conversely, the count begins at 1-and-0.
If all of this sounds a bit complicated to you, with an immense amount of coordination, practice and choreography needed, well, that's what the month of April is for.
Practice Makes Perfect
The timekeeper must be on the ball. By all appearances, though, the pressure will be on the keepers of the timer at each ballpark. They must be right on the game clock throughout, starting it as soon as an inning or pitch comes to an end and another is due to start. They must also work in concert with the umpiring crew, who have the discretion to stop or reset the timer for whatever reason they choose.
Be prepared for accusations of hometown official-timing, which until now has centered mainly in high school and college basketball arenas. Whether true or not, chances are that a canny visiting manager, coach or player will be watching the timer with suspicion.
And so must everyone else. Yes, the batter must be ready to approach the plate when his time comes, and he cannot take his usual amount of time between pitches. Yes, the pitcher must speed himself up, agreeing with his catcher, and coming to a set (or going into his wind-up) within 20 seconds after each pitch. Yes, this is all stressful and unnatural for players who have been taught to play baseball at their own controlled pace all of their life.
But consider the larger cast involved. The umpires, in addition to everything else that they are trying to keep in mind, must have one eye toward play and one eye toward the timer. The first month of the season is as much for the umpires adjusting as it is for the players, to say nothing of the potential for confrontations caused by the timer and its ramifications. The public address announcer doubles as a DJ in so many Minor League parks, playing walk-up songs and sound clips throughout the game; now imagine that multitasking responsibility sped up and strictly regimented. Even the batboy is included in the pace-of-play guidelines. All batboys now must have a second bat at the ready, the better to quickly give to the batter in case of a broken-bat situation.
Stolen base threats will either bog the game down — or jump it to a whole new level. One of the regulations states that the timer resets any time a pitcher steps back off the rubber or bluffs a pick-off throw. Put a dangerous runner on base and be assured that the pitcher will continue to do everything he can think of to keep that runner close. Step off at the last minute? Certainly. Fake a pick-off over and over again. The game might well begin to slow down again, even in spite of the timer. But if the pitcher doesn't do these things….
Just imagine a supreme base stealer, leading off first base, able to look at an actual counting-down clock and figure out (as near to the very second as he can manage) exactly when the pitcher will start his motion to the play. It's a dream. Does the pitcher throw on 8 more often than not? Does he pitch with even less time to spare, down to the very last second? If the base stealer starts to dance about, can he coax a timer-violation from a distracted pitcher, earning his teammate a ball at the plate?
The ramifications stretch beyond the Minors. Now we come back to our interested observers: front office staffers, who might not mind a game lasting a little longer in order to sell concessions / stall for a darker sky on a fireworks night, and who are now confronted by much quicker games; high school and college players, wondering what they'll be getting themselves into when they receive their own professional opportunities, and perhaps changing their own play in order to prepare for the new Minor League game; and, most especially, Major League and Minor League decision-makers, curious to see how everything shakes out.
April is orientation. May 1st begins the true test. If successful, be ready for far greater pace-of-play regulations — and perhaps a different, adjusted style of baseball — in the seasons to come.
RELATED STORIES: MiLB unveils pace of play rules for AA, AAA games
This article originally appeared in the weekly Ballpark Digest newsletter. Are you a subscriber? Sign up for the free newsletter here.