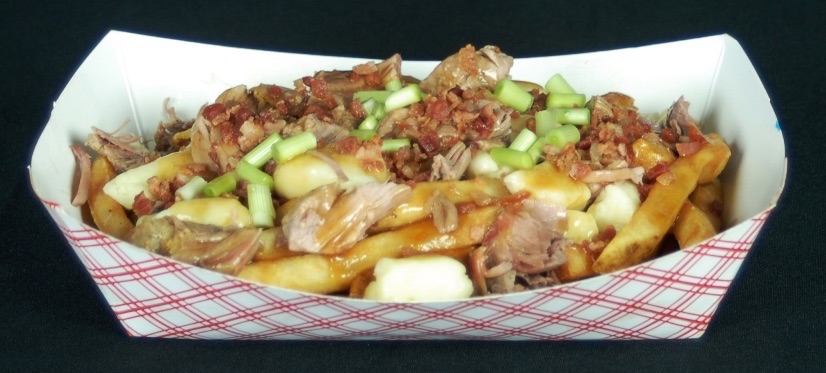 Today's food news, part 2: The Akron RubberDucks (Class AA; Eastern League) unveiled their three remaining extreme food items for 2015, including a truly extreme salad, poutine and an oversized sub.
The three new items added are the "Not Your Routine Poutine," "The Don Corleone Sub," and the "Grand Slam Walk-Off Wedge."
"Not only are the new items 'extreme,' but they are unique and have a wide array of flavors that our fans are sure to enjoy," said RubberDucks Director of Food and Beverage Brian Manning.
It takes a truly unique mindset to take something as ostensibly healthy as a salad and turn it into a extreme food item, but that's what's going on at Canal Park. The Walk-Off Wedge is a full head of iceberg lettuce chopped up, served in a full-size baseball helmet and topped with homemade pretzel croutons, cherry tomatoes, crumbled blue cheese, sunflower seeds, and served with a honey mustard dressing. It's shown below.
The poutine (shown at the top of the page) is a stacked 12-ounce pile of french fries topped with gravy, cheese curds, BBQ pulled pork, bacon bits & green onion. The sub (shown below) is an 8-inch-long, and nearly 6-inch-wide Italian sub layered with ham, salami, pepperoni, provolone cheese, lettuce and tomato.  This sub is then finished off with delicious balsamic onions and signature pepper relish.
Two other additions were announced. First introduced was the new "Jobu's Craft Brews" window and menu. Jobu's Craft Brews will be located on the concourse behind home plate and will debut on Opening Night, Thursday, April 9 at 6:35 p.m. The other new introduction was the "Duck Wings," which will be exclusive to the Dave Walter BMW/VW Duck Row seats in front of the Fowl Territory picnic area near left field.
"Craft beer popularity is increasing across the country and we felt it was time we met our fans' preferences," said Manning. "This new window really accentuates our Canal Park beer options and we can't wait for Opening Day for our fans to get a taste."
Also available at Canal Park for 2015: White Castle sliders, which merited their own story.