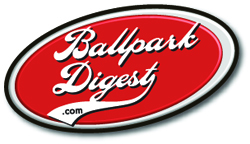 Next week the eyes of the baseball world will be San Diego for the annual Winter Meetings. We'll be there, hosting a reception for Ballpark Digest Award winners and exhibiting at the Baseball Trade Show. Details within.
First off: We are hosting a reception to honor the Ballpark Digest Awards winners. This is a l0w-key affair: wine and beer, a few speeches, and general adoration of the folks honored for their 2014 accomplishments.
We are limiting attendance at this reception to AGMs, GMs, C-level execs and owners. We've had some jobseekers ask about attending, but we won't have the room or capacity for a large crowd.
However, there is a party open to all: Brandiose and the Lake Elsinore Storm are hosting an afterparty on Wednesday, December 10th at 9:30 p.m., after the Gala, at  Wednesday, December 10 at 9:30 p.m., after the Gala at Moonshine Flats (344 7th Ave) in San Diego.
We'll also be exhibiting at the Trade Show: Booth 1244. Stop by and say hi!