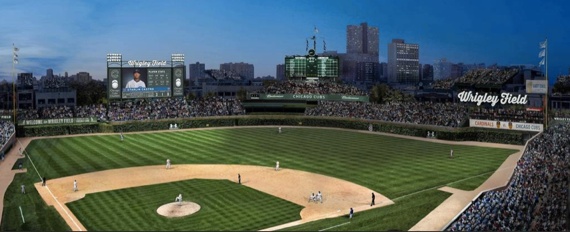 To the consternation of rooftop bleacher owners, the Chicago Landmark Commission today approved a plan from the Chicago Cubs to add a videoboard and another advertising sign to Wrigley Field, a key part of ballpark renovation plans.
The Landmark Commission was expected to be a major hurdle for the Cubs, but the approval was unanimous. The overall Wrigley Field plan calls for major structural changes to the 99-year-old ballpark, as well as development of an outdoor plaza, additional office space, a new boutique hotel and a new parking ramp north of the ballpark. Changes to the ballpark would include expansion of the concourses, an overhaul of the exterior and more entertainment options.
The 5,700-square-foot Jumbotron-like screen to be placed atop the rear wall of left field will be nearly three times the size of Wrigley's famous old-fashioned scoreboard in center field. With a horizontal script sign on top and new night lights, it would be 60 feet tall and 95 feet wide. The three-panel video screen itself would be 95 feet wide and 48 feet tall.
The video board will spell the end of the vertical Toyota script sign in left field, but the commission approved a new script advertising sign for right field that would be about 80 percent larger than the old one.
At a meeting two weeks ago, the landmark commission gave the Cubs permission to about double the amount of signage in the ballpark to 45,000 square feet — not counting the two massive signs approved today.
The Cubs had originally sought more signage, but Ald. Tom Tunney — who represents the Wrigleyville area and a key player in negotiations — had argued for a lower amount, and the final plan was designed to address his objections.
Rooftop bleacher owners who could see their views of the ballpark diminished were not pleased. The Wrigleyville Rooftops Association released the following from Beth Murphy, owner of Murphy's Bleachers:
"Today's decision is a blow to anyone who cares deeply for the historic and special nature of Wrigley Field. We, like many residents of the Lakeview community, feel blindsided by the total disregard of the commissioners who ignored years of careful work that went into crafting the 2004 Landmark Ordinance and the corresponding contractual agreement between the Chicago Cubs and the rooftops. We want to see a modernized Wrigley Field, but throughout this process, the affected small business owners have been shut out to create a more favorable deal for a billionaire family."
"In January, rooftop owners proposed a solution that would preserve the feel of Wrigley Field, provide the Ricketts family revenue needed to modernize the ball park while keeping rooftops in business. Unfortunately, the Ricketts family muscled through a plan today that adversely impacts Wrigley Field and the surrounding business and homes. As small business owners who have spent more than 30 years and tens of millions of dollars investing in our neighborhood, our input should have been sought and valued, but instead, we have been intentionally excluded with arrogant disregard."
The next step: approval from the Plan Commission and the full City Council. The Plan Commission meets next Thursday and is scheduled to discuss the matter. If Tunney's approval continues, the changes are expected to pass both bodies.
Rendering courtesy of the Chicago Cubs.
RELATED STORIES: Chicago approves additional Wrigley Field night games; Cubs still not happy; Cubs-city lovefest hits rocky patch; Cubs submit Wrigley Field renovation plans to city; Ricketts brings hammer down, threatens Cubs move; Cubs, Chicago agree on Wrigley Field upgrades; Cubs, Chicago close to Wrigley Field accord; Could parking ramp clinch Wrigley Field renovation plans?; Rosemont to Cubs: Here, have some free land for a new ballpark!; White elephant on Cubs ledgers? Debt service, not Wrigley Field imperfections; Chicago mayor: We can work with Cubs on Wrigley Field renovations; Cubs unveil more details on Wrigley Field renovations; Cubs exploring hotel, courtyard as part of Wrigley Field upgrades; Ricketts: We're taking long-term view on Wrigley Field improvements; Spat between Cubs, Mayor Rahm continues; Can Bud Selig warm relationship between Cubs, politicians?; Cubs: Following the Fenway Park recipe for renovations; Ricketts family political activity threatens to scuttle Cubs reno plans; WSJ: Tear down Wrigley Field now!; Chicago politics at play: Tunney vs. the Cubs; Cubs reno plan draws harsh criticism from key alderman; Cubs funding request: $500M in Wrigley Field improvements; Emanuel plan for Wrigley renovation: set aside landmark status; Illinois guv: No public money for ballpark renovations; City, Cubs finalizing terms of Wrigley Field renovations; Ricketts: Time to talk Wrigley Field public funding again; Want to buy a chunk of Wrigley Field? Dream on; Gammon rips Wrigley Field, defends Ricketts; Mayor Rahm: No to city aid for Wrigley Field; Poll: Voters oppose public funding of Wrigley Field renovations; State funding of Wrigley Field renovations dies as Assembly adjourns
—-
Share your news with the baseball community. Send it to us at editors@augustpublications.com.
Are you a subscriber to the weekly Ballpark Digest newsletter? You can sign up for a free subscription at the Newsletter Signup Page.
Join Ballpark Digest on Facebook and on Twitter!
Follow Ballpark Digest on Google + and add us to your circles!
Wrigley Field is one of the ballparks mapped out in the Ballpark Digest iPhone/iPad app. Buy it for only $1.99 and plan your ballpark trips!