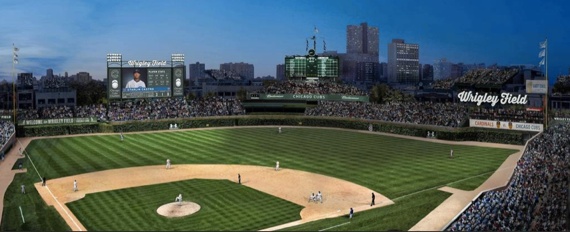 The owner of one of the most profitable teams in Major League Baseball threatened to walk away from one of MLB's most profitable venues if the city didn't approve a $300-million renovation plan for Wrigley Field.
The Cubs have floated a renovation plan for Wrigley Field that would expand concourses, expand the ballpark footprint, build a new hotel across Clark, construct a new parking ramp in the area, and add video signage to the outfield wall. The city, in the form of Mayor Rahm Emanuel, has already agreed with the Cubs on the broad terms of the deal, which still must receive approval from other city departments. The main opposition: owners of rooftop bleachers, who have a revenue-sharing deal with the Cubs, though so far their opposition has been muted, with Ald. Tom Tunney — normally an advocate for the rooftop owners — participating in discussions with Emanuel and the team.
Today Tom Ricketts, part of the Ricketts family ownership of the Cubs, answered a question about the team's future in a rather surprising way: after weeks of good publicity and a deal with the city, he threatened to move the team if approvals weren't ultimately granted.
"I'm not sure how anyone is going to stop the signs in the outfield, but if it comes to the point that we don't have the ability to do what we need to do in our outfield then we're going to have to consider moving," Ricketts said at Wednesday morning event at the City Club of Chicago where he was the guest speaker. "It's a simple as that."…
Speaking to the media afterward, Ricketts attempted to clarify his comments about moving.
"The fact is we are committed to try to work this out. We've always said that we want to win in Wrigley Field, but we also need to generate the revenue we need to compete as a franchise. Having the ability to put video boards and signs in the outfield is very important to us."
Well…not quite so simple. Despite the inability of the Ricketts family to pay any heed to successful public relations (remember, this whole thing started when patriarch Joe Ricketts was pondering an attack on a popular Chicago minister once associated with President Barrack Obama — talk about a politically bone-headed move!), the Chicago Cubs are a flagship franchise in Major League Baseball, and Wrigley Field is a powerful and profitable symbol for the sport. It's one thing for Jeffrey Loria to threaten a Marlins move after playing for years at a football stadium; it's another for an owner of the Cubs to threaten a move from Wrigley Field. The problem for the Cubs isn't on the revenue side of the ledger, it comes on the operational side of the ledger, where plenty of debt (debt that violates MLB's debt rules) keeps the team from throwing wads of cash at free agents. By and large the public response to the Wrigley Field proposals have been positive, and Ricketts should know better than to mess up what's been a fruitful set of discussions with the city.
Renderings courtesy of the Chicago Cubs.
RELATED STORIES: Cubs, Chicago agree on Wrigley Field upgrades; Cubs, Chicago close to Wrigley Field accord; Could parking ramp clinch Wrigley Field renovation plans?; Rosemont to Cubs: Here, have some free land for a new ballpark!; White elephant on Cubs ledgers? Debt service, not Wrigley Field imperfections; Chicago mayor: We can work with Cubs on Wrigley Field renovations; Cubs unveil more details on Wrigley Field renovations; Cubs exploring hotel, courtyard as part of Wrigley Field upgrades; Ricketts: We're taking long-term view on Wrigley Field improvements; Spat between Cubs, Mayor Rahm continues; Can Bud Selig warm relationship between Cubs, politicians?; Cubs: Following the Fenway Park recipe for renovations; Ricketts family political activity threatens to scuttle Cubs reno plans; WSJ: Tear down Wrigley Field now!; Chicago politics at play: Tunney vs. the Cubs; Cubs reno plan draws harsh criticism from key alderman; Cubs funding request: $500M in Wrigley Field improvements; Emanuel plan for Wrigley renovation: set aside landmark status; Illinois guv: No public money for ballpark renovations; City, Cubs finalizing terms of Wrigley Field renovations; Ricketts: Time to talk Wrigley Field public funding again; Want to buy a chunk of Wrigley Field? Dream on; Gammon rips Wrigley Field, defends Ricketts; Mayor Rahm: No to city aid for Wrigley Field; Poll: Voters oppose public funding of Wrigley Field renovations; State funding of Wrigley Field renovations dies as Assembly adjourns
—-
Share your news with the baseball community. Send it to us at editors@augustpublications.com.
Are you a subscriber to the weekly Ballpark Digest newsletter? You can sign up for a free subscription at the Newsletter Signup Page.
Join Ballpark Digest on Facebook and on Twitter!
Follow Ballpark Digest on Google + and add us to your circles!
Wrigley Field is one of the ballparks mapped out in the Ballpark Digest iPhone/iPad app. Buy it for only $1.99 and plan your ballpark trips!