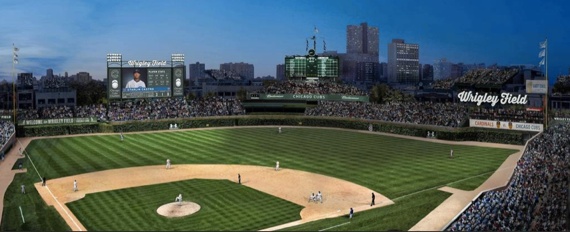 The Chicago City Council passed a plan to add more night games annually at Wrigley Field, but the Cubs and neighborhood leaders aren't happy with the compromise.
The plan passed by the council yesterday is basically what we reported was in the works earlier this week: The Cubs can schedule up to 35 night games a year, up from the current 30, plus at least five more if MLB schedules the team for national broadcasts. (Not as far-fetched as you might assume once Fox 1 starts scheduling national MLB broadcasts in the future.) The team will have the power to reschedule six Friday games this season to 3:05 p.m. from 1:20 p.m. Nonbaseball events like concerts or football games would count toward the night-game limit, and Friday and Saturday night games would be limited to two per season.
You know it's a pretty good compromise when neither side is happy with it. Neighborhood residents don't like the addition of any night games — they'd like to see a return of the William Wrigley era, of course — and the shifting of Friday game times. The Cubs ownership don't want to cede any control of the schedule to the city (if a night game is cancelled, the city will choose the make-up date) and aren't happy that non-football events count toward the night-game limit. Still, considering how contentious this discussion could have been, that the agreement was approved after no debate says something.
Of course, this is just one step in the city approval for the Wrigley Field renovation plans. The team's proposal to add more signage to the Friendly Confines will need to pass through city review committees and is sure to provoke some heavy opposition from rooftop-bleacher owners.
Rendering courtesy of the Chicago Cubs.
RELATED STORIES: Cubs-city lovefest hits rocky patch; Cubs submit Wrigley Field renovation plans to city; Ricketts brings hammer down, threatens Cubs move; Cubs, Chicago agree on Wrigley Field upgrades; Cubs, Chicago close to Wrigley Field accord; Could parking ramp clinch Wrigley Field renovation plans?; Rosemont to Cubs: Here, have some free land for a new ballpark!; White elephant on Cubs ledgers? Debt service, not Wrigley Field imperfections; Chicago mayor: We can work with Cubs on Wrigley Field renovations; Cubs unveil more details on Wrigley Field renovations; Cubs exploring hotel, courtyard as part of Wrigley Field upgrades; Ricketts: We're taking long-term view on Wrigley Field improvements; Spat between Cubs, Mayor Rahm continues; Can Bud Selig warm relationship between Cubs, politicians?; Cubs: Following the Fenway Park recipe for renovations; Ricketts family political activity threatens to scuttle Cubs reno plans; WSJ: Tear down Wrigley Field now!; Chicago politics at play: Tunney vs. the Cubs; Cubs reno plan draws harsh criticism from key alderman; Cubs funding request: $500M in Wrigley Field improvements; Emanuel plan for Wrigley renovation: set aside landmark status; Illinois guv: No public money for ballpark renovations; City, Cubs finalizing terms of Wrigley Field renovations; Ricketts: Time to talk Wrigley Field public funding again; Want to buy a chunk of Wrigley Field? Dream on; Gammon rips Wrigley Field, defends Ricketts; Mayor Rahm: No to city aid for Wrigley Field; Poll: Voters oppose public funding of Wrigley Field renovations; State funding of Wrigley Field renovations dies as Assembly adjourns
—-
Share your news with the baseball community. Send it to us at editors@augustpublications.com.
Are you a subscriber to the weekly Ballpark Digest newsletter? You can sign up for a free subscription at the Newsletter Signup Page.
Join Ballpark Digest on Facebook and on Twitter!
Follow Ballpark Digest on Google + and add us to your circles!
Wrigley Field is one of the ballparks mapped out in the Ballpark Digest iPhone/iPad app. Buy it for only $1.99 and plan your ballpark trips!