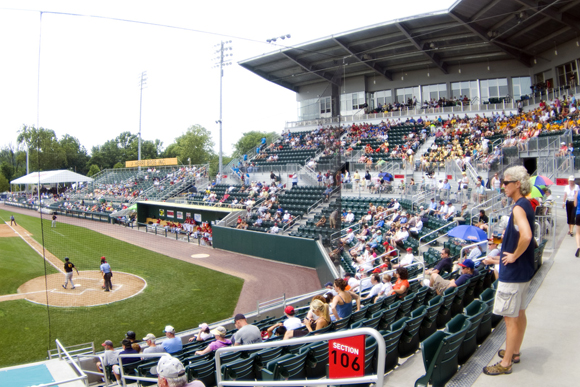 Good news for Harrisburg Senators (Class AA; Eastern League) management: For the first time ever, the H-Sens have surpassed 100,000 tickets sold prior to the home opener.
The Senators reached the milestone earlier this week, two weeks prior to the April 12 home opener. This is the third season in the new and improved Metro Bank Park and ticket sales this off-season show that central Pennsylvanians are embracing the Senators and Metro Bank Park.
The team set an all-time single season attendance record in 2010, drawing 294,325 fans. That season, the Senators were aided by the addition of Stephen Strasburg, the Eastern League All-Star Game and the first year of the newly renovated Metro Bank Park.
"It's been a great off-season for us," said Kevin Kulp, the Senators President. "We're so excited about the team and the cool promotions we are going to have this season. We've had awesome weather and I think our fans are getting into the baseball spirit earlier than usual. We're excited about achieving this milestone and hope we can carry the momentum throughout the season."
—-
Share your news with the baseball community. Send it to us at editors@augustpublications.com.
Are you a subscriber to the weekly Ballpark Digest newsletter? You can sign up for a free subscription at the Newsletter Signup Page.
Join Ballpark Digest on Facebook and on Twitter!
Follow Ballpark Digest on Google + and add us to your circles!