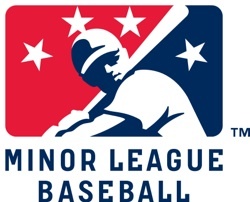 What a great time of year! If you missed celebrating MLB's Opening Day last week, you have another bite at the apple: today is Opening Day for Minor League Baseball's full-season leagues.
We'll be highlighting the big stories of the day, including the rise of the San Antonio Missions (Class AAA; Pacific Coast League) from Double-A to Triple-A ball, and the various affiliation shifts negotiation for the 2019-2020 MLB/MiLB cycle. No new ballparks are opening today: Hodgetown (Amarillo Sod Poodles) opens next Monday, while Las Vegas Ballpark (Las Vegas Aviators) opens next Tuesday and Segra Stadium (Fayetteville Woodpeckers) opens April 18. We'll be on hand for the Amarillo and Fayetteville openings, hitting Vegas at the end of the month.
Lots of interesting storylines to review:
Syracuse Mets Brace for Tebowmania
Las Vegas Ballpark Readies for Opener
Flooding Forces River Bandits Venue Shift to Burlington
Grizzlies Announce $3.4M in Chukchansi Park Upgrades
Speaking of MiLB Opening Day: Our next Facebook Live doubleheader is set for Friday, as Jesse Goldberg-Strassler hosts Ballpark Digest Publisher Kevin Reichard and broadcaster Mick Gillispie on two separate chats.
Jesse and Kevin will discuss what's new in MiLB ballparks for 2019 at 11 a.m. Eastern / 10 a.m. Central on Friday, April 5, as well as what to look for as the season progresses. Jesse and Mick will discuss The Baseball Thesaurus and the language of baseball, broadcasting and broadcasting at noon on Friday, April 5, at noon Eastern / 11 a.m. Central. Ask a question in either broadcast, and if we use it you can win a free copy of The Baseball Thesaurus! To watch and participate, just visit and follow the Ballpark Digest Facebook page:
Jesse Goldberg-Strassler is the Voice of the Lansing Lugnuts and the author of The Baseball Thesaurus and The Football Thesaurus. Mick Gillispie is the Voice of the Tennessee Smokies and a spring-training broadcaster for the Chicago Cubs, as well as the winner of the Broadcaster of the Year in the 2017 Ballpark Digest Awards.
This week's topics for Jesse and Mick: The lingo of the game, table-setter; reviewing the call of Bill Mazeroski's historic walk-off home run in Game 7 of the 1960 World Series; and broadcaster stories about Opening Day.
Last week we discussed what was new on MLB Opening Day. Watch it here: