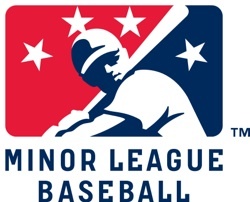 The emerging trend of legalized sports betting concerns Minor League Baseball president Pat O'Conner, who fears it could have an adverse effect on the game. 
Sports betting is gradually being legalized around the United States, with individual states having enacted their own sports betting laws over the last several months. It has become prominent because of a ruling by the Supreme Court last May, which overturned the Professional and Amateur Sports Protection Act (PASPA) of 1992–a law that banned sports betting under most circumstances (exempting Nevada, where sports books are legal). That decision effectively paved the way for individual states to legalize sports betting, leading to several that have already put their laws into effect and others that are considering similar measures.
As that trend progresses, O'Conner is expressing fear that legalizing sports gambling could have a negative influence on players, as well as employees like umpires and official score keepers. At the crux of O'Conner's broader concern are two fears pertaining to legalized sports betting and how it could affect MiLB. Existing laws do not adequately control and monitor minor-league sports wagers according to O'Conner, who also fears that their low salaries could make MiLB players more easily influenced by gamblers than those at the major-league level. More from the Boston Herald:
"Without safeguards, I would say it's a matter of 'when' and not 'if' at some level," said O'Conner about a baseball-betting transgression occurring. "Now, it may be local and small enough that it never rises to the level of a 'scandal' but think about this: You're in A-ball, and you got a nice bonus but you're making $2,000 a month, and a guy comes to you and says, 'Hey kid, just the first pitch — throw the first pitch outside, that's all you need to do. You're going to throw a hundred more pitches before the night's out, just make sure the first one's outside.'
"OK, you may not affect the outcome of the game but now you're owned, you're owned. And the next time he comes back, it may be something more. It may be more money, it may be a more egregious offense but you're owned. A young and impressionable kid is not going to know he needs to be looking over his shoulder for the rest of his career. Or his life. When you are in a position where 'This may be my last year and I've never really had a good payday, and somebody offers me something?' I'm not saying they would, and I would like to pray to god that they won't, but it is a real threat."
O'Conner's concern on the vulnerability front of low-paid baseball players is shared by MLB.
"I think in general when I talk to people about the potential dangers of minor league betting, they understand that our players make a lot less money at the minor league level, they understand that our umpires and official scorers and others at the minor-league level make less money," said Bryan Seeley, senior vice president of Major League Baseball, late last year. "Only two states passed laws this year, and that was West Virginia and New Jersey, and neither one of them, I believe, put any restrictions on that type of betting. It's of concern. We're monitoring minor-league betting, we're going to take a real long look at what's being offered in 2019 on minor-league games and see what we need to do in response to that."
In a general sense, MLB has seemed to warm to the idea of legal sports betting since the Supreme Court's ruling. By the end of November, the league had signed a deal with MGM Resorts International to become the sport's first official gaming partner, sharing advanced stats exclusively with the gambling giant and working on a plan to protect the integrity of the game both on and off the field.
Despite that, the trend is not being met without some trepidation, as was evidenced by MLB's recent push to have states individually ban betting on spring training games, and MiLB certainly has its concerns about how it will affect players and other employees. Legalized sports betting has gathered momentum in recent months and is positioned to become more common in the future, but O'Conner's fears are a sign that some in the industry have concerns over how it could affect the sport.
RELATED STORIES: MLB Pushes to Ban Spring Training Betting; Best of 2018, #9: MLB Embraces Gambling; MGM Resorts International Named MLB's First Official Gaming Partner; U.S. Supreme Court Clears Way for State-Regulated Sports Betting