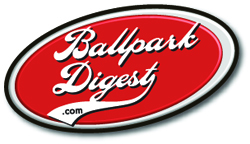 There was a series of close votes in the 2018 Best of the Ballparks fan vote for Triple-A ballparks in the second round, setting up some awesome matchups in the Elite Eight round. So vote!
How close were the votes? First Tennessee Park won by 13 votes over Isotopes Park (Albuquerque Isotopes), while Durham Bulls Athletic Park (Durham Bulls) prevailed over Fifth Third Field (Toledo Mud Hens) by 28 votes — proving that every vote does indeed count.
In general, it was a good round for the International League, with six of the eight ballparks in this round coming from that circuit. The top vote-getters in contested brackets: Louisville Slugger Field (Louisville Bats), Huntington Park (Columbus Clippers) and Southwest University Park (El Paso Chihuahuas). Over 21,000 fans weighed in during this round.
The fact that so many really great ballparks are in Triple-A represents a real challenge to voters, which we discovered when seeding the competition: you could argue that several ballparks deserve the top seed, and so many ballparks don't deserve to be in the bottom half. We always use last year's champion as the top seed, so Huntington Park, Columbus Clippers home, begins on top.
We know from marketing stats that a third of our readers work in the baseball industry, so we're tapping into that collective expertise. And we know from our research that a third of our readers sell to the baseball industry, so that expertise will be valuable as well. The remaining third — fans, media, government — will certainly have a different view on things as well. We can't wait to see what our readers — whom we consider to be the smartest folks in baseball — say about the best of the ballparks.
Some things to note. First, you are allowed to vote multiple times, but you can only vote once per day. Second, you don't need to fill out a full slate: partially filled votes will count. A running tally of the vote will be presented, and you can view the results to date in the brackets graphic at the bottom of this page.
Here's our schedule for Best of the Ballparks 2018 vote:
MLB: Completed
Class A and Class AA: Now-June 19
Class AAA: Now-July 6
Short Season A/Rookie: Now-July 6
Independent: June 22-July 9
Summer Collegiate: July 2-22
We are running the contest with seeded brackets, so there will be plenty of action in the coming days. Here's a breakdown of the voting schedule:
First Round: Completed
Second Round: Now – June 23, 2 p.m. Central
Elite Eight: June 23, 2 p.m. Central – June 27, 2 p.m. Central
Final Four: June 27, 2 p.m. Central – July 1, 2 p.m. Central
Finals: July 1, 2 p.m. Central – July 6, 4 p.m. Central
Here's our ranking of Triple-A ballparks, combining International League and Pacific Coast League facilities. Occupying the top spot is Huntington Park, home of the Columbus Clippers, the winner of the Best of the Ballparks 2017 voting. This is the top level of Minor League Baseball and the top set of MiLB ballparks, and there's not a whole lot of difference between the ballparks in the middle of this list; the rankings are a gentle guide, to be sure.