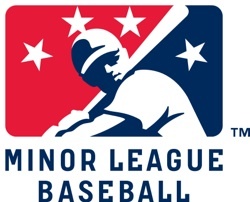 Minor League Baseball is partnering with the Joe Torre Safe at Home Foundation to raise awareness about domestic violence and help end its destructive cycle. Beginning today, and continuing through July 24, Minor League Baseball teams are educating their fans about this growing epidemic and its lasting effects through in-park videos and public address announcements, as well as online through a social media campaign.
Clubs will also provide fans with information on resources available to those who may be victims of domestic violence, specifically children. The effort is coordinated by Minor League Baseball Charities, a 501(c)(3) not-for-profit organization dedicated to giving back to and enhancing the communities MiLB teams call home.
The partnership with Minor League Baseball marks the first time The Joe Torre Safe At Home Foundation has aligned with a sports property on a league-wide initiative. As part of the awareness campaign, each participating MiLB team will raffle or auction off a Joe Torre autographed baseball to benefit a local organization that supports victims of domestic violence or the Safe At Home Foundation. Fans attending games during the promotional period will also receive a Topps card pack, along with a commemorative card featuring an image of Torre and facts about the Safe At Home Foundation.
The announcement to partner with Minor League Baseball clubs complements The Joe Torre Safe At Home Foundation's integrated, national advertising campaign launched in April. To amplify its important mission and message, Safe At Home debuted its largest awareness campaign to date, and its first in nearly 12 years, called 'End the Cycle.' The Joe Torre Safe At Home Foundation's mission is educating to end the cycle of domestic violence and save lives by providing intervention and prevention programs via its signature program "Margaret's Place." As a byproduct of a home where domestic violence was prevalent, Joe, along with his wife, Ali, founded the Safe At Home Foundation in 2002 to reach children who are exposed to violence in their homes, schools and communities.
"I am so grateful to Pat O'Conner and Minor League Baseball for the commitment shown in raising awareness of domestic violence and the Safe At Home Foundation," said Torre. "With more than 15 million children facing domestic violence every year, these events and partnerships are critical to educating the public, shedding light on the issue, and achieving our goals so that every child feels safe at home."
"Domestic violence is a sensitive topic that people often don't want to talk about or bring to the forefront, but we have an obligation to the children affected to do so," said Pat O'Conner, Minor League Baseball President & CEO. "I've known Joe [Torre] for many years, and to be able to support a cause that is so personal to him and his family is very important to me. We consider our ballparks places where people feel safe, and having a forum like Safe At Home to address an otherwise taboo subject is something our clubs are eager to take part in and fully support."
Minor League Baseball Charities has implemented several initiatives in Minor League Baseball ballparks this season including the 'Cover Your Bases' Sun Safety Initiative with the American Cancer Society, the Derrick Hall Pro-State Foundation Father's Day Initiative and the BairFind Foundation Concourse Sign Project. This August, Minor League Baseball will once again activate the MiLB CommUNITY Initiative, a campaign designed to encourage fans to come together and stand up against discrimination and violence. Additionally, the organization has designated August "MiLB CommUNITY Month." To learn more about Minor League Baseball Charities and its Charity Partners Program, visit MiLB.com.
For more information on domestic violence and the Safe At Home Foundation, visit www.joetorre.org. If you or someone you know is impacted by domestic violence, help is available. Call the National Domestic Violence Hotline at 800-799-7233.