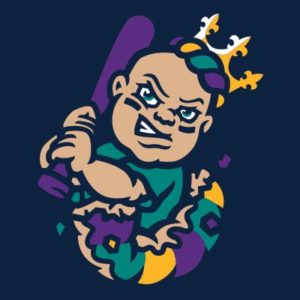 One of Minor League Baseball's latest rebrands is yielding positive results, as the New Orleans Baby Cakes (Class AAA; Pacific Coast League) are seeing an uptick in merchandise sales. 
Last month, the New Orleans Zephyrs announced a new identity, taking the name Baby Cakes after a name the team contest. It marked a drastic change from the Zephyrs' moniker, which been used by the franchise since it was located in Denver in the mid-1980's.
As with most rebrands, the name drew some sharp reactions on both sides–some in favor of the change, while others have offered strong criticism. If early results are any indication, however, the name Baby Cakes will lead to some sought-after merchandise. Mere weeks after announcing the name, the Baby Cakes are reporting an increase in sales. More from WWLTV.com:
In fact, in just five weeks, the franchise has already surpassed sales from all of 2015.  Baby Cakes General Manager Cookie Rojas puts it into perspective:
"Before, Zephyrs sales were in the bottom half of all minor league baseball. Right now, we're in the top ten of all minor league baseball."
Carey Yacoubian had never bought Zephyrs gear. Monday she told us her first trip to the Baby Cakes shop, won't be her last.
"My son, who's now living in D.C. but still keeps up with what goes on in New Orleans, when he first saw that the name was Baby Cakes, he and his friends were in an uproar," said Yacoubian. "They loved it and he just had to have a t-shirt, hat and everything else that goes along with it."
While the Baby Cakes are producing strong results, they are not the only team that has rolled out a new name in recent months. Overall, this has been a busy offseason when it comes to the announcement of new names, with monikers such as the Binghamton Rumble Ponies (Class AA; Eastern League), Down East Wood Ducks (High A; Carolina League), and the Jacksonville Jumbo Shrimp (Class AA; Southern League) already in place for 2017.
RELATED STORIES: New for 2017: New Orleans Baby Cakes