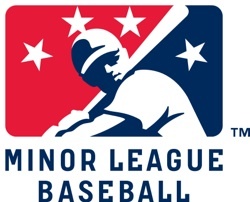 Minor League Baseball has named Dave Elmore its 2016 King of Baseball. Elmore is the owner and founder of the Elmore Sports Group. 
The King of Baseball is a long-standing tradition in which Minor League Baseball recognizes a veteran of professional baseball for longtime dedication and service. Elmore will receive the King of Baseball Award at the Baseball Winter Meetings Banquet on December 4 at Gaylord National Resort & Convention Center in National Harbor, Maryland.
"This is a truly amazing honor to be named the King of Baseball," said Elmore. "There is nothing I have enjoyed more than being a part of Minor League Baseball for these past 36 years and realizing the great good our teams do to bring our communities together and provide countless charitable benefits."
"Dave Elmore has had a long and illustrious career as a Minor League Baseball owner and operator, and he has served Minor League Baseball in a number of roles over the years," said Minor League Baseball President & CEO Pat O'Conner. "He has truly earned this honor through all of his hard work and tireless efforts for the betterment of the game and it is my pleasure to present him with this award."
Elmore founded the Elmore Sports Group in 1969, which now consists of six Minor League Baseball teams, including the Colorado Springs Sky Sox (Class AAA; Pacific Coast League), San Antonio Missions (Class AA; Texas League), Inland Empire 66ers (High A; California League), Lynchburg Hillcats (High A; Carolina League), Idaho Fall Chukars (Rookie; Pioneer League) and Eugene Emeralds (Short Season A; Northwest League). The company also owns hockey and soccer teams, along with facility management, travel, hospitality, special events and concession companies.
Elmore has served on the Joint Professional Baseball Agreement Committee, which consists of four Minor League Baseball team owners and four Major League Baseball team owners. Together, they work to identify and address issues that arise between both leagues while discussing possible amendments to the Professional Baseball Agreement.
Elmore was inducted to the Pacific Coast League Hall of Fame and the Texas League Hall of Fame for his contributions as an owner. He is also the Pioneer League representative for the Minor League Baseball Board of Trustees.
Prior to joining the sports and entertainment industry, Elmore was a partner with a law firm in Chicago from 1958 to 1968. In addition, the White House appointed him to the Travel and Tourism Advisory Board in the Department of Commerce in 1983. Elmore was a member of the Young Presidents Organization from 1969 to 1984, and he served as president of the International Fraternity of Phi Gamma Delta, which consists of more than 85,000 members.