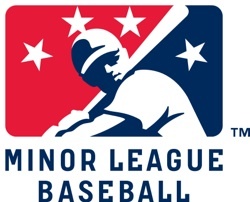 Two more MiLB awards to note: International League President Randy Mobley is this year's Warren Giles Award winner, while Lehigh Valley IronPigs Vice President, Marketing & Entertainment Lindsey Knupp is the 2015 Rawlings Woman Executive of the Year Award winner.
The Warren Giles Award honors outstanding service as a league president. It has been presented annually since 1984 and is named for the long-time baseball executive who served as National League president from 1951 to 1969. This is the third time Mobley has earned the prestigious honor in his 25 years as president the International League.
"Working in various capacities, Warren Giles was an icon in professional baseball and I am honored and humbled to receive the award named after him," said Mobley. "The good Lord has blessed me with the opportunity to work in this great game of baseball for my entire adult life and I thank Him for that every day. The older I get, the more privileged I feel to be leaving the house every morning and going to work in baseball. As a league president, you are only as effective as the support of your teams will allow and as a group we have, over the years, been able to keep things moving forward."
Mobley began his professional baseball career in 1980 as an intern for the Columbus Clippers before being hired full time at the conclusion of the 1981 season. From there, he served the Clippers in various roles including director of operations, director of group sales and director of public relations over a four-year span.
In November 1985, Mobley began his career in the International League office as administrator of the league. In 1989, he was named president of the American Association and commissioner of the Triple-A Alliance before being named president of the International League in 1990. After the Triple-A Alliance dissolved in 1991, Mobley continued on as International League president, where he was named Minor League Baseball Executive of the Year in 2002 by Baseball America.
Mobley was recently recognized as the longest serving president in the history of the International League, completing his 25th year in 2015.
Mobley has been chairman of the Council of League Presidents (COLP) for Minor League Baseball since its inception in 1992. He has co-chaired the Minor League/Major League Rules and Policy Review Committee since 1993. Mobley has also been a member of the Professional Baseball Umpire Corporation (now known as Umpire Development) Labor Negotiations Committee for the last decade.
"Randy Mobley has not only fulfilled, but excelled in his role as a league president during his 25 years with the International League," said president & chief executive officer of Minor League Baseball, Pat O'Conner. "Randy is always eager to serve the organization in any way possible and readily answers the call to action from our office. His dedication to the game has rightfully earned him the Warren Giles Award for a record third time. On behalf of Minor League Baseball, it is my pleasure to present Randy with this honor."
—-
In Lehigh Valley, Knupp received the award after 11 season in Minor League Baseball. Since 1976, the Rawlings Woman Executive of the Year Award has been presented annually to a woman who has made outstanding contributions to her club or league, or to baseball.
"I'm overwhelmingly honored to be receiving this award among so many outstanding women," said Knupp. "I've had tremendous support over the years from both the IronPigs organization and the International League which has allowed me to continue to grow and hopefully become a role model for young women in this industry."
Knupp was recently promoted to vice president, marketing & entertainment after completing her 11th season in Minor League Baseball and eighth season with Lehigh Valley as the club's director of promotions & entertainment. In her new role, she oversees the community relations and multimedia design efforts of the club, in addition to her current responsibilities of handling promotions and entertainment. Under her direction, the IronPigs have captured Ballpark Digest's "Promo of the Year" award, as well as GameOps.com's "Best Game Operations and Presentation" award. The IronPigs' forward-thinking promotions have been highlighted
in numerous national publications, including The Wall Street Journal, USA Today and Sports Illustrated.
In her day-to-day role, Lindsey coordinates all game day promotions and entertainment, performs corporate sales and handles the club's outgoing marketing budget. Her outgoing media strategy includes a variety of emerging trends such as branded content, retargeting, infographics and video content in addition to traditional marketing techniques like TV, print, radio and billboard campaigns.
"Lindsey has a unique combination of positive ambition and fierce competitiveness that has allowed her to achieve her many accomplishments," said Lehigh Valley IronPigs President and General Manager Kurt Landes. "Our innovative and creative promotions and marketing campaigns are a direct product of her talent and leadership."
In 2014, Lindsey was on a leadership committee that oversaw a rebranding strategy that resulted in the highly successful launch of new team logos centered on all things bacon at SmellTheChange.com. The campaign also went viral, with thousands of online mentions, as well as coverage in a number of high profile media outlets, including ESPN, CBS, GQ and Mashable.
Lindsey also serves as a board member for IronPigs Charities, where she volunteers her time and plays a significant role in the organization's key fundraising event, the Phillies Winter Banquet.
A graduate of Shippensburg (Pa.) University, Lindsey began her professional baseball career as an associate with the Reading Phillies in 2005 before joining the IronPigs' front office in 2007.
"Lindsey has made significant contributions to the IronPigs operation in her time with the club, resulting in overwhelming success for the organization's brand and image," said Pat O'Conner, Minor League Baseball president & chief executive officer. "Her creativity and innovation has helped make the ballpark experience each night at Coca-Cola Park a truly unforgettable experience. On behalf of Minor League Baseball, I congratulate Lindsey on being named the 2015 Rawlings Woman Executive of the Year."