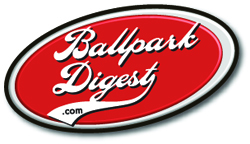 Like many of our readers, we're catching our breath after the end of the regular MiLB season. But we've been working hard on other projects outside baseball, and it's time to share them with you.
First, we launched a new website last week: Football Stadium Digest. The site is already attracting over a thousand visitors a day, and we expect rapid growth there. Despite offseason issues with the NFL — Deflategate and concussions, among them — football is still the leading sport in America, with the NFL starting the season strong and college football popularity expanding. We're seeing some very cool things done in the college-football world: Zach Spedden's look at the renovations of Texas A&M's Kyle Field generated hundreds of responses in social media. (Speaking of college football: look for a collegiate-venues site in the near future.)
Second:  books, book, books! We're now shipping a new book and a new edition of an existing book. Jesse Goldberg-Strassler is back with The Football Thesaurus. Goldberg-Strassler is the Voice of the Lansing Lugnuts and a Ballpark Digest contributing editor, and he's also a hardcore football fan who has compiled the lingo of the sport and explained the history behind the jargon. In The Football Thesaurus, a fascinating compendium of football terms, Jesse Goldberg-Strassler—broadcaster, storyteller, talker, voice—explains what football terms mean and how they came to be. Whether it's a discussion of how Doug Plank was the inspiration for Buddy Ryan's 46 defense or why legendary Chicago Bears owner/coach George Halas referred to a football as a cantaloupe, Goldberg-Strassler's book succeeds both as a football reference and a history of the game. You can order this book, complete with free shipping, from the revamped August Publications site or from Amazon.com.
We're also on the third press run of Raye of Light: Jimmy Raye, Duffy Daugherty, The Integration of College Football, and the 1965-66 Michigan State Spartans. When Jimmy Raye enrolled at Michigan State University in 1964, he did more than just enroll in a university hundreds of miles from his native Fayetteville, N.C.: he was part of a groundbreaking movement that changed college football forever. In Raye of Light, Shanahan tells the story of how Daugherty integrated his Spartan teams in a time when leading college programs like the University of Alabama were still segregated, when it was unusual to see black athletes at skill positions like quarterback, and when choices for outstanding Southern black athletes were either traditionally black colleges or northern colleges opening their doors to nationwide recruits. We're extremely proud to publish this important work; you can find ordering information here.
Finally, our annual spring-training eBooks are out! The Complete Guide to Spring Training 2016 / Arizona and The Complete Guide to Spring Training 2016 / Florida are available for download on smartphones, tablets and PCs/Macs using Kindle, Nook and iBooks readers. Check out each page for how to purchase the book for download from August Publications or your favorite eBook vendor (Amazon, bn.com, Apple iBooks). They're priced to move at $5.99.