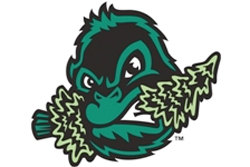 The Eugene Emeralds (short season A; Northwest League) are adopting a Sasquatch theme for future logos, as the team unveiled new logos based on the Pacific Northwest legend.
The new identity pays tribute to the legend of Sasquatch in the Pacific Northwest. The primary logo features a Sasquatch unearthing trees behind "Emeralds" lettering. Fans will also enjoy the iconic "E" Sasquatch foot logo, and several other Sasquatch and foot-related marks.
Emerald Green, Sasquatch Black and Neon Green make up the club's new official colors. The Emeralds are the first franchise in professional sports to use Sasquatch as a team logo and the first team in MiLB to use Neon Green as a primary color.
"When we started this process, we wanted to end up with something fun that fans could really associate with," said Ems General Manager Allan Benavides. "Sasquatch gives the Emeralds a face for the first time in our long history." Sasquatch biting the tree will be the emblem on the home hat while the foot-shaped "E" will serve as an alternate. The road uniforms will feature the "Eugene" script with feet on each end. Home, away and alternate uniforms will be released in the spring.
The Emeralds' look was brought to life at Brandiose in San Diego.
"Brandiose has done some great work with other minor league teams," Benavides said. "We knew that they would come up with a look our fans, players and staff can all be proud of."
The development process began last June when Jason and Casey met in Eugene with fans, staff and community members to learn about the stories, history, and personality of the Emeralds and Eugene.
"Eugene is a hotbed of countercultural ideas," said Brandiose's Jason Klein. "From Sasquatch sightings to hippie culture, the Ems are honoring Eugene's eccentricities with a few of their own."
—-
Share your news with the baseball community. Send it to us at editors@augustpublications.com.
Are you a subscriber to the weekly Ballpark Digest newsletter? You can sign up for a free subscription at the Newsletter Signup Page.
Join Ballpark Digest on Facebook and on Twitter!
Follow Ballpark Digest on Google + and add us to your circles!