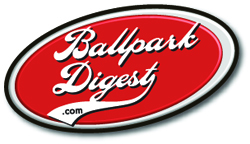 It's a Northwoods League-dominated Final Four, with three Northwoods ballparks among the Final Four in the 2019 summer collegiate Best of the Ballparks vote. So you know what to do: vote!
Two of the ballparks are new to the Northwoods League this year: at Kokomo Municipal Stadium, the Kokomo Jackrabbits played out of the Prospect League before making the jump, and a year ago Pit Spitters Park, home of the Traverse City Pit Spitters, was known as Wuerfel Park, home of an independent Frontier League team. The other finalists: Travis Field, home of the Texas Collegiate League's Brazos Valley Bombers, and Herr-Baker Field, home of the Northwoods League's Fond du Lac Spiders. Over 58,000 fans weighed in during the first four rounds of summer-collegiate voting (compared to the 57,000 fans voting in total in the 2018 summer-collegiate vote), with over 576,000 fan voting in the overall 2019 Best of the Ballparks competition.
So we move on to the Final Four round.
There is an amazingly wide variety of ballparks used in summer-collegiate leagues across the United States and Canada. We began with 64 noteworthy summer-collegiate ballparks, ranging from WPA facilities and ballparks hosting Negro Leagues games to former Single-A, Double-A and Triple-A ballparks. (Yes, we did take history into account when compiling this list.) We began this competition with last year's winner–Corbett Field, home of the Souris Valley Sabre Dogs–and randomly generated the rest of the brackets. With over 20,000 voters participating, the second round of voting narrowed the field to 16.
We know from marketing stats that a third of our readers work in the baseball industry, so we're tapping into that collective expertise. And we know from our research that a third of our readers sell to the baseball industry, so that expertise will be valuable as well. The remaining third — fans, media, government — will certainly have a different view on things as well. We can't wait to see what our readers — whom we consider to be the smartest folks in baseball — say about the best of the ballparks.
We are running the contest with seeded brackets, so there will be plenty of action in coming days. Here's our schedule for the Best of the Ballparks 2019 summer-collegiate vote:
First Round: Completed
Second Round: Completed
Third Round: Completed
Fourth Round: Completed
Fifth Round: Now – July 18, 3 p.m. Central
Final Round: July 18, 3 p.m. Central – July 23, end of day
Here's our schedule for Best of the Ballparks 2019 vote:
MLB: PNC Park, Pittsburgh Pirates
Low A: Parkview Field, Fort Wayne TinCaps
High A: LECOM Park, Bradenton Marauders
Class AA: Hodgetown, Amarillo Sod Poodles
Class AAA: Las Vegas Ballpark, Las Vegas Aviators
Short Season A: Gesa Stadium, Tri-City Dust Devils
Rookie: Motor Mile Field at Calfee Park, Pulaski Yankees
Independent: Impact Field, Chicago Dogs
Summer Collegiate: Now-July 23
Some things to note. First, you are allowed to vote multiple times, but you can only vote once per day. Second, you don't need to fill out a full slate: partially filled lineups will count. A running tally of the vote will be presented. Signing up for the Ballpark Digest newsletter means you'll receive regular updates on the votes.