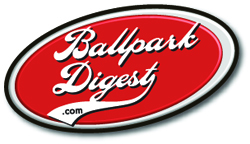 When we do our seeding for the 2018 Best of the Ballparks votes, we don't try to determine specific outcomes. In the case of the Short Season-A vote, we sure as heck didn't create a path that saw the two finalists owned by Bobby and George Brett.
We've had some great matchups this year — MCU Park (Brooklyn Cyclones) vs. Richmond County Bank Ballpark (Staten Island Yankees), for example — and the finals of the Short Season-A vote features Gesa Stadium (Tri-City Dust Devils) battling Avista Stadium (Spokane Indians). The two teams, of course, are controlled by the Brett Brothers: Bobby Brett (Spokane) and George Brett (Tri-Cities). We didn't foresee this matchup in the finals, seeding Gesa Stadium #20 and Avista Stadium #7:
To make it even more interesting, the Dust Devils played last night at Avista Stadium, where Bobby Brett commented on the competition:
"They started early with social media and got way ahead, but I'm feeling confident the Indians will come from behind," Bobby said.
"We deserve it. They have a fine ballpark at Tri-City, but it's not this," he said. "We have the old pipe-rail seating, we have the original roof from 1958. There's a lot of foul ground here, which is unique from the historic ballparks. It's just a cool, old ballpark that's been renovated through the years."…
"We'll catch 'em," he said. "It's classic. It's just like the old times. George versus Bobby."
If you want to learn more about the 2018 Best of the Ballparks fan vote for Short Season-A ballparks, just go here. Or if you just want to vote for a ballpark as a proxy for your favorite Brett brother, go ahead and vote here: