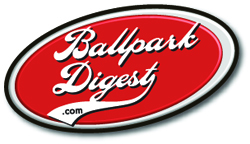 Time is money, as the old saying goes. By spending some time with Stadium 1 at the 2017 Baseball Winter Meetings, you will learn more about dynamic venue-management tools that can boost your bottom line by double digits.
Stadium 1 is exhibiting at the Booth 823 at the Baseball Winter Meetings Trade Show, held Dec. 11-13 at the Swan and Dolphin Resort in Disney World. Drop by to see how Stadium 1 technology has helped clients increase revenues by 22 percent thanks to Stadium 1's cutting-edge technology and design. Stadium 1 tech is now serving over 30 percent of all MiLB teams; see what it can do for you via these key features:
Designed from an ownership perspective
Game-changing POS
Fan App
Dynamic real-time dashboard
Fan Loyalty Program
Workforce management
Robust inventory management
New stand sheets program
Sponsorship revenue channel
These powerful components are all part of one platform, simplifying management on every level. To see how Stadium 1 can impact your bottom line, check out what happened after the Lexington Legends of the South Atlantic League implemented the Stadium 1 ballpark-management platform. The team generated more revenue in each of their revenue channels, and by implementing the Stadium 1 functionality the Legends recorded a 22 percent increase overall in revenue while consolidating operational expenses.
"Stadium1 combined all the components of POS technology, into ONE platform that has reflected very positively in our bottom line by increasing our revenue throughout our business operation and has reduced waste and theft around our stadium operation," says Lexington Legends president Andy Shea.
According to Shea, implementing Stadium 1 streamlined the process of tracking inventory from the warehouse to each concession point-of-sale unit. Plus, with the Stadium 1 deal engine function, the Legends are now able to sell items that would have gone to waste while helping sell promo items out of inventory. Stadium 1 functions controls all in-game transfers, sales counts and end of shift totals directly from the POS concession stand back to the administrate program for manager review. This resulted in a 14 percent increase in revenue, and the inventory tracking resulted in a 7 percent reduction in food waste and 4 percent reduction in theft.
The Legends are not alone in growing sales with Stadium 1. Consider this quote from Sonoma Stompers Director of Operations Jack Burkham:
"Stadium 1 innovations include a very flexible design, front-end POS simplicity, while providing an excellent detailed reporting flow made it the perfect choice for our team. The unique controls within the Stadium 1 software platform helped us grow sales inside the stadium by more than 50 percent."
According to Burkham, moving forward with Stadium 1 and implementing its software features helped increase Stompers revenue by 50 percent, cutting down on operational expenses by 15 percent, while reducing theft and waste by 15 percent.
As noted, time is money, so it would be a prudent investment of your time to meet with Stadium 1 at the Winter Meetings, as the firm is showcasing its state-of-the-art commercial-grade, water-resistant POS smart terminal—the most durable unit for any stadium or venue. In addition, you'll see the Stadium 1 Fan Loyalty App, which connects team management to the fans and can create revenue in numerous ways.
In summary: Stadium 1 is designed from an MiLB owner's perspective, adding value to every revenue and expense center through the unique software functionality proven to increase the bottom line.
Visit Stadium 1 at the Baseball Winter Meetings, Booth 823. Contact Ed Mullen, Vice President of Stadium 1, for a show appointment at ed.mullen@stadium1.com, or call 561-704-1414.
Stadium 1 was designed specifically for stadium operations, born online and created from the ground up with the most advanced cloud-based software programming technology tools, designed by a team owner with a world-class technology background. Stadium 1 exists in the market today with tools that can help teams increase revenues, reduce theft and waste. The integrated management suite links all departments into a real-time system so ownership can make more informed pre-game, in-game and post-game decisions based on integrated technology.