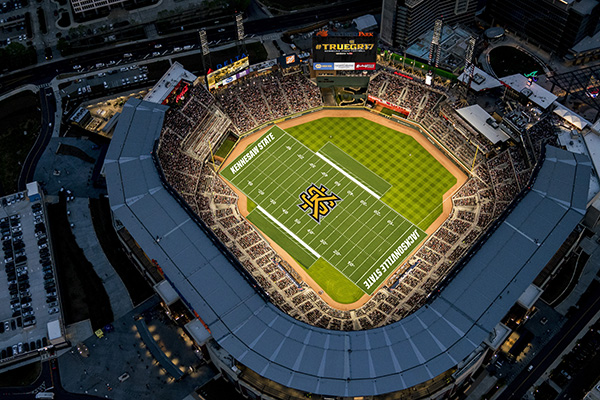 In the yesteryear of sports, before Daily Fantasy, before instant replay, even before television, there were football games played in ballparks. Pretty much everywhere. And it seems to be a trend that's returning.
In New York, the Giants played at Yankee Stadium and the Jets played at Shea. In Boston, the Patriots took snaps at Fenway Park and Chicago saw the Bears call Wrigley Field their home.
Detroit's Tiger Stadium, Baltimore's Memorial Stadium, and on it went, not to mention the dual sport cookie-cutters in Pittsburgh, Cincinnati and Oakland, plus the domes in Seattle and Houston.
Point being, it wasn't really a novelty for a football game to be played in a baseball park. Until now, that is. In the modern era of stadium specialization, cross-participation is almost dead in the pro ranks (and will be dead once the Raiders leave Oakland), leaving it to the college ranks to spice up the post-MLB months with the occasional football game in a park built for baseball.
And that phenomenon, much like the Winter Classic-related events in pro and college hockey, are becoming increasingly prevalent as the decade of the teens advances. Where once there was perhaps an isolated bowl game at Yankee Stadium, now there are three baseball parks in play in 2017. And where one regular season game per season across all 30 Major League parks was about the norm, this year eight college football games will be played in five different ballparks, with more parks prepared to host games in 2018 and beyond.
Here is a breakdown of the college football games scheduled for Major League fields:
FENWAY PARK
The lyric little bandbox first played host to a collegiate game in 2015 – even if Boston College technically didn't. It was Notre Dame that was considered the home team for its game against the Eagles that year. But BC gets a legit chance to be the host in 2017, facing its former Big East rival, the UConn Huskies, on November 18.
That will actually be the third college game at Fenway in 2017, as a pair of Ivys kick off the eight-day Fenway football-fest with Brown playing Dartmouth on November 10. The next day, UMass hosts Maine.
"This game will present our players with an unforgettable experience — playing in one of the most renowned venues in American sport — and provide UConn fans with a front row seat," UConn athletic director David Benedict said in January, when the three-game slate was announced.
YANKEE STADIUM
The other side of baseball's greatest rivalry will do its part in 2017 with a pair of games, including another installment of the Pinstripe Bowl in December.
In November, the Big Ten returns to the Stadium as Rutgers takes on Maryland. It will be Rutgers' second regular-season game across the Hudson River in the Bronx, having played Army in 2011. According to NJ.com in February, Rutgers is paying the Yankees $750,000 for the right to use the ballpark for its game with Maryland, as the school looks to solidify its base in the New York market.
The eighth Pinstripe Bowl at Yankee Stadium will be held on December 27. The game will match teams from the Big Ten and the ACC.
Another Ivy League game will take place in a Major League park in 2019, when Dartmouth plays Princeton.
TARGET FIELD
Arguably the biggest football rivalry in the state of Minnesota is going to the Show in 2017. The Division III University of St. Thomas will host St. John's University on September 23. The "Johnnie-Tommie Game" (or is it Tommie-Johnnie?) will be the first football game for Target Field since it opened in 2010.
"The Twins organization is honored and excited to be hosting one of Minnesota's great," Twins president Dave St. Peter said last October. "As the first-ever football game at Target Field, the historic Tommie-Johnnie rivalry should help create a special experience for the players, coaches and most importantly, the fans. We cannot wait for kickoff."
CHASE FIELD
What's old is new again in Arizona. The Cactus Bowl, which was held at Chase Field in the early 2000s, when the stadium was known as Bank One Ballpark, returned to downtown Phoenix in January 2016 for the first of three seasons, while Sun Devil Stadium in Tempe undergoes renovations. The Bowl game played twice in 2016, an early January game to conclude the 2015 season and a late December game to end the 2016 campaign. The 2017 bowl game, featuring teams from the Pac-12 and Big 12, will take place on December 26.
TROPICANA FIELD
One can argue all day about the viability of Tropicana Field as a Major League Baseball ballpark (catwalks, anyone?), but the fact remains, it is a baseball venue, first and foremost, and it has held an annual college football game since 2008.
The St. Petersburg Bowl will make it a full decade on December 21, pitting a team from the American Athletic Conference against either a team from the ACC or Conference USA. If neither conference has enough bowl-eligible teams, the Mid-American or Sun Belt Conference may supply the opponent. An SEC team, Mississippi State, played Miami (OH) in 2016.
FUTURE DATES
SunTrust Park in Atlanta announced in early June that it will host a regular season game between Kennesaw State and Jacksonville (AL) in 2018. Wrigley Field, which hosted a game in 2010 in which only one end zone was available to be used because of safety concerns in the small ballpark, will try again in 2020.
Rendering courtesy Kennesaw State University. 
RELATED STORIES: SunTrust Park to Host Football Game in 2018; More Football on Tap for Wrigley Field; Fenway Park to Host NCAA Football This Fall
This article first appeared in the weekly Football Stadium Digest newsletter. Are you a subscriber? It's free, and you'll see features like this before they appear on the Web. Go here to subscribe to the Football Stadium Digest newsletter.