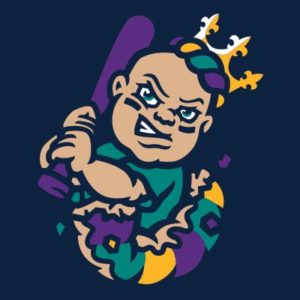 We end 2016 with a countdown of the 10 biggest stories of the year on Ballpark Digest, as chosen by editors and partially based on page views. Today, #6: Rebranding.
Over the past year, rebrandings have been a focal point for many Minor League Baseball teams. Both before and after the regular season, numerous new monikers were rolled out as more unique names came into the sport.
In some ways, 2016 was a year that will be remembered for the names that made their debuts. Upon relocating to Columbia, SC, the Savannah Sand Gants (Low A; Sally League) became the Columbia Fireflies. That name was first introduced in 2015, but it took baseball by storm in its debut season, even winning our most recent Best New Logo/Branding Award.
While the Fireflies picked up some accolades, other new names made their mark in 2016. This past season also saw the arrival of the Hartford Yard Goats (Class AA; Eastern League) and, looking beyond the minors, the Savannah Bananas (summer collegiate; Coastal Plain League) also made a splash.
However, rebranding was not confided to the regular season, as the final months of 2016 saw the introduction of new monikers for the 2017 season. The Jacksonville Suns (Class AA; Southern League) changed course, announcing in November that they are becoming the Jacksonville Jumbo Shrimp.
Two clubs that conducted name-the-team contests during the regular season followed through with dramatic overhauls to their new identities. After 25 seasons with the same name, the Binghamton Mets (Class AA; Eastern League) announced that they were becoming the Binghamton Rumble Ponies. Shortly after the name was revealed, the Rumble Ponies unveiled a slate of NYSEG Stadium upgrades for 2017, giving the team some new ways to display their brand within the ballpark.
The New Orleans Zephyrs (Class AAA; Pacific Coast League), meanwhile, ditched their longtime name to become the New Orleans Baby Cakes. Though introduced just last month, the new name appears to be catching on quickly, as the Baby Cakes have reported a sharp increase in merchandise sales.
Another notable name to have emerged in recent months is the Down East Wood Ducks (High A; Carolina League), a franchise that will begin play in Kinston, NC next season. Wood Ducks was selected after being a finalist in a name that team contest that was launched in September.
The Minor League Baseball landscape is becoming increasingly full of creative names, and that trend continued in 2016.
Previously in our Top Ten Stories of 2016 List:
#7: Oakland A's Ballpark Quest
#8: Rays Continue Ballpark Search
#10: Savannah Bananas