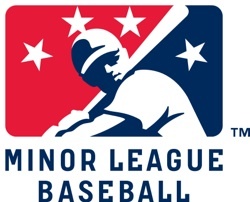 Minor League Baseball is honoring Donald "Spin" Williams with the 2016 Mike Coolbaugh Award. Williams, a senior advisor of player development for the Washington Nationals, will receive the award at the Baseball Winter Meetings Banquet on Sunday, Dec. 4, at Gaylord National Resort & Convention Center in National Harbor, Maryland. 
The Mike Coolbaugh Award is presented annually to an individual who has shown outstanding baseball work ethic, knowledge of the game and skill in mentoring young players on the field. The award was created by Minor League Baseball in 2008 to honor the late Coolbaugh, a 17-year minor league player who was in his first year as a coach at the time of his passing. Mike appeared in 44 major league games with the Milwaukee Brewers (39 games in 2001) and St. Louis Cardinals (five games in 2002).
"Spin has dedicated his life to the game of baseball and sharing his knowledge with young players to help them reach the major leagues," said Minor League Baseball President & CEO Pat O'Conner. "Like Mike Coolbaugh, he has made a positive and lasting impact on so many, it is only appropriate that he was selected for this great honor."
"This game has blessed me in so many ways: The people I have met, the opportunities that I have had, and the places that I have been able to go, but being chosen for the Mike Coolbaugh Award is one of the highlights," said Williams. "I am grateful to Minor League Baseball and the Coolbaugh family for recognizing me with this honor. There are so many good baseball people out there that are deserving of such an award, and I am humbled to be chosen. Thanks to my Washington Nationals family, Minor League Baseball President Pat O'Conner, and all of the people who have helped me along the way on this wonderful journey."
Williams began his baseball career in 1979 as a player in the Pittsburgh Pirates organization before embarking on a 27-year coaching career with the Pirates. He has spent the last 11 years in player development with the Washington Nationals. In his time with the Nationals, he has overseen the development of over 40 pitchers that have reached the major leagues with the Nationals, including 12 on the current major league roster.
"On behalf of the entire Washington Nationals organization, I am thrilled to congratulate Spin Williams on being named the 2016 Mike Coolbaugh Award winner," said Washington Nationals Assistant General Manager and Vice President, Player Personnel Doug Harris. "Spin's commitment to not only helping our players develop as pitchers, but also to mature as men, is second to none. For me, personally, it is an honor to know him and to work with him for as long as I have, and I'm so proud to see him earn the type of recognition he so richly deserves."