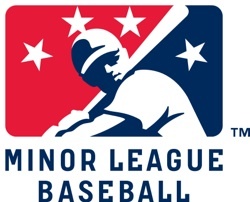 We have personnel news today from Minor League Baseball's legal department and the Lexington County Blowfish (summer collegiate; Coastal Plain League).
In Minor League Baseball's legal department, Robert Fountain has been promoted to Deputy General Counsel. Fountain provides legal support to all facets of Minor League Baseball with an emphasis on government relations, corporate governance, club transactions and intellectual property. Fountain works closely with the Board of Trustees and Council of League Presidents in various capacities. He joined Minor League Baseball in 2010 as a legal intern and most recently held the title of Associate Counsel. Fountain is a member of the Florida Bar and has a Bachelor of Science degree in political science with a minor in communications from Brigham Young University and a Juris Doctor from Stetson University College of Law, where he graduated with honors.
Jessica Merrick has been promoted to Associate Counsel. She joined Minor League Baseball as an intern in 2013 and has held full-time positions in the licensing and marketing departments. Merrick has a Bachelor of Arts degree in government and world affairs from the University of Tampa and received her Juris Doctor from Southwestern University School of Law in Los Angeles, where she specialized in entertainment and sports law. Merrick is responsible for the drafting, updating and interpretation of various business contracts and forms for Minor League Baseball. She works closely with all departments and MiLB clubs to prepare agreements. Merrick provides legal support to all facets of Minor League Baseball with an emphasis on marketing support, intellectual property matters, TV and movie licensing, and club ownership and relocation transactions. She is also responsible for participating in club transactions, intellectual property matters and territorial exploration.
In Lexington County, Brian Larkin is the team's new general manager. Larkin joins the Blowfish from the Pensacola Blue Wahoos (Class AA; Southern League) and will officially join the front office on October 17.
With the Pensacola Blue Wahoos, Larkin has been responsible for developing and managing corporate sponsorships, group ticket sales and full/partial season ticket sales. Larkin is originally from Cincinnati. He is a 2013 graduate of the University of Mississippi receiving a Bachelor's Degree in Business Administration.
"Vicki and I are excited to have Brian join our team," said Blowfish co-owner Bill Shanahan. "The Pensacola Blue Wahoos are one of the top minor league franchises in the nation in attendance and tops in fan satisfaction. We are looking to learn from the best and continue to improve our fan experience at Lexington County Blowfish Baseball Games."
"I'm really looking forward to joining the Lexington County Blowfish," Larkin said. "I'm very excited to bring with me the incredible knowledge and skills learned in Pensacola and integrating them with the continued success already occurring within the Blowfish organization."