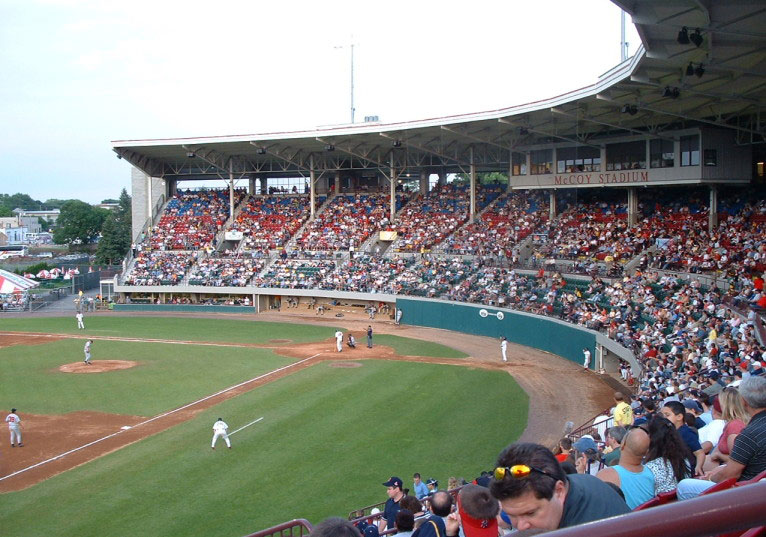 Discussions continue over whether McCoy Stadium is viable for the Pawtucket Red Sox (Class AAA; International League), and the team hopes that a pending feasibility study brings some clarity to the issue.
For most of the 2016 season, the PawSox worked with the City of Pawtucket and the State of Rhode Island to explore a potential renovation of McCoy Stadium. The ballpark, which first opened in 1940 and was last renovated in 1999, has been eyed for a replacement by the team's current ownership, but after a pitch for a new downtown Providence ballpark came up short, the PawSox have focused mostly on Pawtucket.
The feasibility study on the McCoy Stadium renovations is due to be complete in December. For PawSox officials, including team president Charles Steinberg, the goal is for any ballpark project to not only modernize player and fan amenities, but to develop additional opportunities around the facility. More from the Providence Journal:
"When you have ballparks, you often talk in 20- or 30-year increments," said [general manager Dan] Rea. "The last major renovation of this ballpark in the late '90s, we're coming up on the 20-year anniversary of that. We're looking forward to taking a look at things, rolling up the sleeves and getting a sense of what this ball park might need."
McCoy's long-term viability is a two-fold question, centering on the can and the should. First, can McCoy be efficiently renovated, in Steinberg's words, into "a facility that is worthy of being the Triple-A facility of the Boston Red Sox"? If the answer to that is yes, the follow-up is whether it should.
The draw of a downtown ballpark wasn't just the chance to remake the facility itself; it was the opportunity to build up the area around it. Ownership still longs for a ballpark that would draw fans to the neighborhood before the first pitch and after the last out, and they wonder if that can be done around McCoy.
In the meantime, the club will focus on what Steinberg called the "low-hanging fruit" in terms of improvements: better concessions and nicer restrooms, for example. The PawSox are in the initial stages of exploring ways to make the seating more intimate along the field's expansive foul lines and behind home plate, though that may require larger changes than can be done this winter.
There has been a trend in all levels of the minors, including Class AAA, to tie development to ballparks and it seems that the PawSox want to explore if such a concept is feasible in the area surrounding McCoy Stadium. The PawSox's lease at McCoy Stadium runs through the 2020 season so, as we have noted before, the team has time to plot its course.
RELATED STORIES: Four Firms Bidding on McCoy Stadium Study; Feasability Study Set for McCoy Stadium; PawSox to Begin McCoy Stadium Study; Lucchino: All Options for Future Pawsox Ballpark on Table.