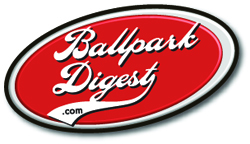 First-round voting in Best of the Ballparks 2016 for Major League Baseball facilities yielded some surprisingly decisive victories and no big upsets. So you know what to do: Vote in the second round, which launches today!
The first round of MLB ballpark voting saw Petco Park, Wrigley Field, Target Field, Kauffman Stadium, Dodger Stadium, Fenway Park and Oriole Park all receive over 80 percent of the vote in their respective matchups. The only upset from our seedings — and a mild one at that — saw fans choose Nationals Park over Yankee Stadium. So that sets up a pretty fascinating second round of voting.
We began this year's Best of the Ballparks vote in May with fans asked to choose their favorite Triple-A, Double-A, High-A and Low-A affiliated ballparks. We're currently in the midst of voting for independent and summer-collegiate ballparks and later this month we'll ask fans to vote on their favorite Short Season A and Rookie ballparks.
We included and ranked all 30 MLB ballparks, beginning with PNC Park and AT&T Park on the top and O.Co Coliseum and Tropicana Field on the bottom. This is, of course, all relative: honestly, the difference between #8 and #26 on this ranking isn't all that great, and you could argue a totally plausible ranking using your own criteria that differs greatly from this one.
Some notes on the voting. First, votes are filtered by IP address, so we're limiting folks to one vote. (Feel free to hit that reload as many times as you want, but multiple votes will be filtered out of the final tally.) Second, you don't need to fill out a full slate: partially filled votes will count. Third: desktop users will see all the choices; tablet and smartphone users will see one choice at a time. (Tablet and smartphone users can move between choices by clicking on the arrow at the bottom of the ballot.)
Voting for this round has ended.
We know from our marketing/user research stats a third of our readers work in the baseball industry, so we're tapping into that collective expertise. And we know from our research that a third of our readers sell to the baseball industry, so that expertise will be valuable as well. The remaining third — fans, media, government — will certainly have a different view on things as well. We can't wait to see what our readers — whom we consider to be the smartest folks in baseball — say about the best of the ballparks.
Here is our ranking of all 30 MLB ballparks. Last year's champion, PNC Park, receives the #1 seed based on 2015's fan choice:
1. PNC Park (Pittsburgh Pirates)
2. AT&T Park (San Francisco Giants)
3. Fenway Park (Boston Red Sox)
4. Wrigley Field (Chicago Cubs)
5. Target Field (Minnesota Twins)
6. Oriole Park (Baltimore Orioles)
7. Dodger Stadium (Los Angels Dodgers)
8. Coors Field (Colorado Rockies)
9. Petco Park (San Diego Padres)
10. Safeco Field (Seattle Mariners)
11. Citizens Bank Park (Philadelphia Phillies)
12. Kauffman Stadium (Kansas City Royals)
13. Citi Field (New York Mets)
14. Progressive Field (Cleveland Indians)
15. Yankee Stadium (New York Yankees)
16. Miller Park (Milwaukee Brewers)
17. Comerica Park (Detroit Tigers)
18. Nationals Park (Washington Nationals)
19. Marlins Park (Miami Marlins)
20. Minute Maid Park (Houston Astros)
21. Angel Stadium (Los Angeles Angels of Anaheim)
22. Great American Ball Park (Cincinnati Reds)
23. Globe Life Park (Texas Rangers)
24. Rogers Centre (Toronto Blue Jays)
25. Busch Stadium (St. Louis Cardinals)
26. U.S. Cellular Field (Chicago White Sox)
27. Chase Field (Arizona Diamondbacks)
28. Turner Field (Atlanta Braves)
29. O.co Coliseum (Oakland Athletics)
30. Tropicana Field (Tampa Bay Rays)
Here are the brackets for the second round of voting:
Click on the image for a larger version.