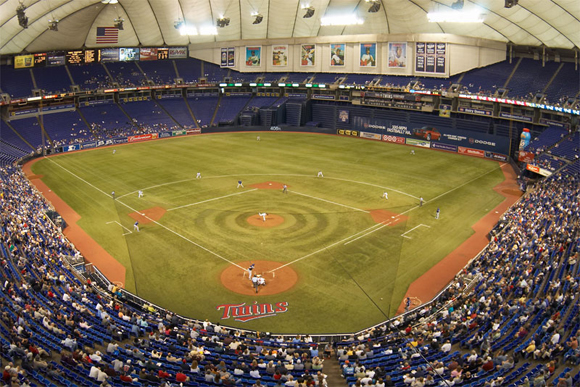 The seats are gone and the storage rooms cleaned, which means electricity to the Metrodome will be cut off Saturday, directly leading to the roof deflating.
The Metrodome roof, a two-play synthetic-cloth covering, is kept up by air pressure. When the electricity is cut off, the roof will deflate — slowly. Even if all the doors are open — and we don't think they will be — it will take a little time for the roof to come down, about 23 minutes. (One of the best parts of attending a Twins game at the Metrodome was leaving the place and letting the air pressure push you outside.
The Minnesota Sports Facilities Authority is overseeing the Metrodome demolition and is asking people to stay away from the roof deflation. For starters, there's no specific time yet set for cutting off the electricity and, with the relatively long time it will take the roof to come down, there's not a whole lot to see:
The MSFA and Minnesota Vikings will have cameras inside and outside the stadium to record the deflation. That footage will be posted on their websites and distributed to the media.
The roof will begin to deflate when crews cut off power to the building. The authority is "unclear on the exact timing" because it will depend on the weather and other factors, [Chair Michele] Kelm-Helgen said, but she indicated that it will probably happen early in the day….
It's not going to be like, 'One, two, three, deflate,' " Kelm-Helgen said.
The Metrodome served as home of the Minnesota Twins from 1982-2009, the Minnesota Golden Gopher baseball team from 1985-2013, the Minnesota Vikings from 1982-2013 and the Minnesota Timberwolves from 1989–1990. It is the only venue to host an MLB All-Star Game, a World Series, a Super Bowl and an NCAA men's basketball Final Four.
RELATED STORIES: On the auction block: Metrodome contents; Compromise reached on baseball at new Vikings stadium; New Vikings stadium could host Gophers baseball — if the numbers work; Adios, Metrodome; One anniversary not marked by MLB this year: Metrodome opening
—-
Share your news with the baseball community. Send it to us at editors@augustpublications.com.
Are you a subscriber to the weekly Ballpark Digest newsletter? You can sign up for a free subscription at the Newsletter Signup Page.
Join Ballpark Digest on Facebook and on Twitter!
Follow Ballpark Digest on Google + and add us to your circles!