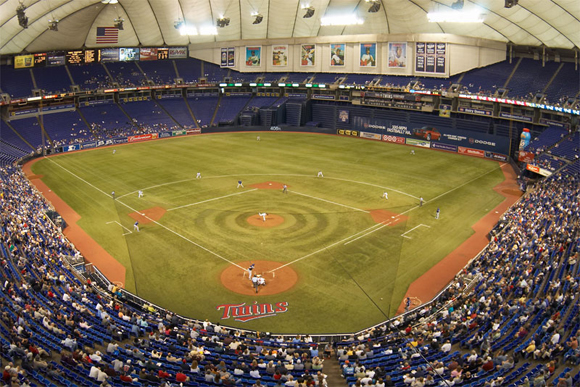 With the demolition of the Metrodome set for early 2014, the Minnesota Sports Facilities Authority will be auctioning off the contents of the facility this fall.
The Metrodome, the former home of the Minnesota Twins and the University of Minnesota Golden Gophers baseball team, will be torn down to make way for a new Minnesota Vikings stadium, set to open in 2016. (The Vikes will play at the U of M's TCF Bank Stadium in the meantime.)
The sale will occur over time. Items relating to baseball, such as the portable pitching mound used during the final years of the Twins, will be sold off in coming months. As the Vikings will spend one last season in the Dome, anything relating to football, including all the seats and concessions equipment, will be retained until after the team wraps up its run there. From the Star Tribune:
"We'll just have a month to disassemble that entire ­stadium before demolition," said Michele Kelm-Helgen, the stadium authority chairwoman. "That's why we're trying to get rid of as much of this stuff as we can now."
Jay Lindgren, a partner with Dorsey & Whitney, one of the law firms representing the stadium authority, said most items probably will be put up for public bid, either through advertising or through an electronic or online process, such eBay.
The first of the goods targeted for sale include an indoor batting cage, a pitcher's mound, the drum roller that ground crews used to smooth and pack the dirt around home plate and the bases, and the collapsible "risers," which served as the platform for 5,000 folding chairs during NCAA basketball tournament games.
RELATED STORIES: Compromise reached on baseball at new Vikings stadium; New Vikings stadium could host Gophers baseball — if the numbers work; Adios, Metrodome; One anniversary not marked by MLB this year: Metrodome opening
—-
Share your news with the baseball community. Send it to us at editors@augustpublications.com.
Are you a subscriber to the weekly Ballpark Digest newsletter? You can sign up for a free subscription at the Newsletter Signup Page.
Join Ballpark Digest on Facebook and on Twitter!
Follow Ballpark Digest on Google + and add us to your circles!