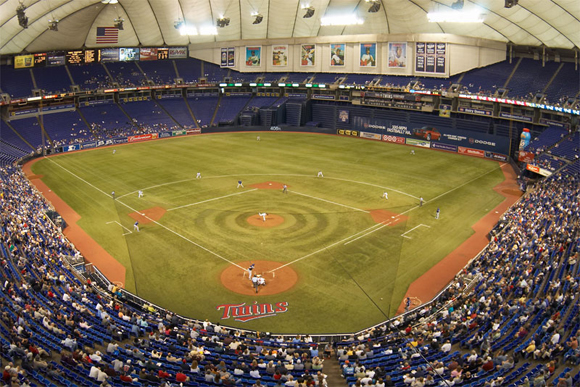 The decision last week to build a new stadium for the NFL's Minnesota Vikings had one bittersweet side effect: the Metrodome will be torn down to make way for the new facility.
The decision really wasn't hard: though other downtown Minneapolis sites were under consideration to house the new 65,000-seat football stadium (including a site close to Target Field), at the end of the day the Metrodome site was chosen. And it makes sense: a state authority already owns the Metrodome land, infrastructure in the form of utilities and light-rail access is there, and there's land in the area (including lots owned by Vikings owner Zygi Wilf) available for tailgating and development.
So, barring something totally unexpected, the Metrodome will be in its final days. Construction of the new stadium will begin on the parking lot east of the Metrodome; at some point the Metrodome will be shut down and demolished. The Vikings will play there until that point; we would expect the University of Minnesota Golden Gopher baseball team to play part of 2013 there as well while Siebert Field is being rebuilt. While the Metrodome was largely unloved in its final years, it was also a historic facility, hosting NFL football, MLB baseball, NBA basketball and Final Four NCAA basketball.
RELATED STORIES: One anniversary not marked by MLB this year: Metrodome opening
—
Share your news with the baseball community. Send it to us ateditors@augustpublications.com.
Are you a subscriber to the weekly Ballpark Digest newsletter? You can sign up for a free subscription at the Newsletter Signup Page.
Join Ballpark Digest on Facebook and on Twitter!
Follow Ballpark Digest on Google + and add us to your circles!