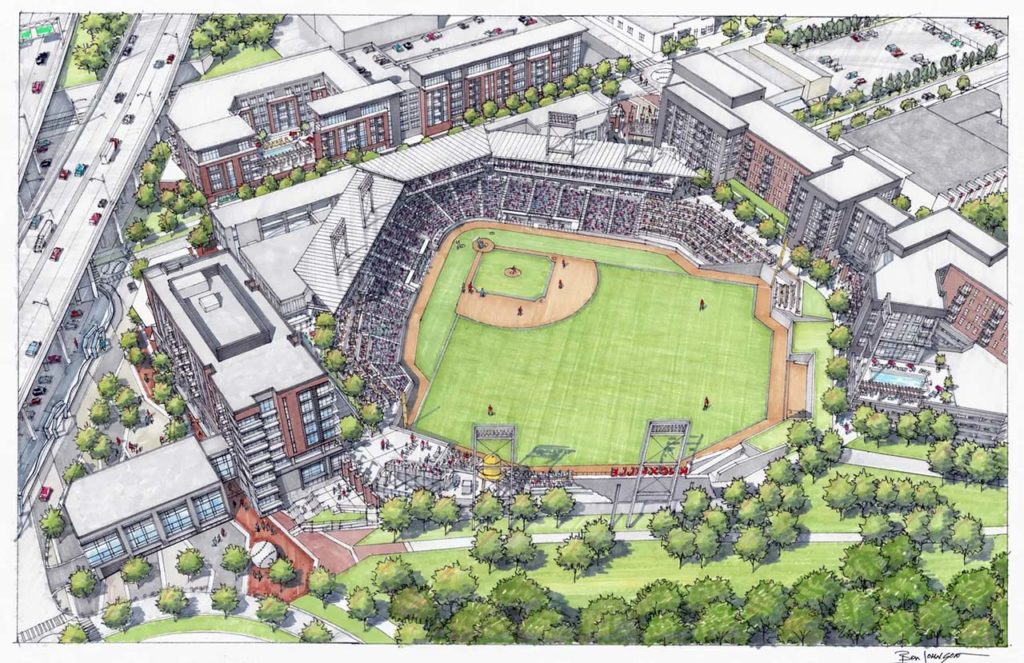 The price tag for a new Tennessee Smokies ballpark is now at $114 million, but with overages anticipated from the start, team owner Randy Boyd will cover the increased costs.
Boyd, the state and the Sports Authority Board had a $107 million budget in place, leaving a new gap of $7 million, as the public contribution is fixed at $65 million. The new ballpark is set to open in 2025 in the Old City area of Knoxville, as the team is moving back to the city from suburban Kodak, and is planned to drive more economic investment into the city.
The Sports Authority Board moved forward with the most recent budgetary numbers at yesterday's meeting, pending final approval:
The $114 million dollar ballpark is more expensive than what board members wanted to hear, but they expected it because of inflation, and they still believed it will be a positive investment.
"Financing is in place, revenues will be in place to support this," Nance said….
The actual financing has not been approved yet. The vote gave the board the green light to finalize the documents. The final development agreement, and financial plan, will be voted on at a meeting later this month. Construction can start once that's approved.
The new price tag was announced by the city and the county in a press release:
Additionally, Randy Boyd has agreed to contribute funds needed to pay for the cost increases over the previously approved funding plan. In total, Boyd has committed more than $30 million to the project, will make lease payments of $1 million annually, and will cover any costs overruns beyond the stadium GMP.
He has also re-affirmed his commitment to provide up to $20 million in subordinated TIF funding to be repaid through new revenue in the Tax Increment Financing district.
"The key takeaway for Knox County citizens is that the City and County's financing plan hasn't changed, and it won't, even though the price of the stadium has gone up," [Knox County Mayor Glenn] Jacobs said. "Every proposed construction project from homes to commercial development is more expensive now than last year because of construction costs, interest and inflation; that doesn't change anything for us, even though the Stadium project has also felt those impacts."
Jacobs further noted, "Hotel/motel tax collections – which are what we will use to finance our costs – are 50% higher now than when the stadium and its financing were initially introduced, so the County is still in a strong fiscal position to move forward with this project."
Rendering courtesy Tennessee Smokies.
RELATED STORIES: Rising construction costs impacts new Knoxville ballpark; New Knoxville ballpark receives final city approval; New Knoxville ballpark bonding receives initial approvals; First approval for new Knoxville ballpark; Knox County moves forward with new Smokies ballpark; Work could begin next fall on new downtown Knoxville ballpark; Boyd unveils vision for new Knoxville ballpark; Impact of Potential New Knoxville Ballpark: Beyond the Fences; New Downtown Knoxville Ballpark for Smokies Discussed