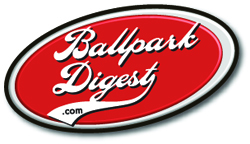 Last week, we unveiled something new: the start of weekly live chats on the Ballpark Digest Facebook page. Each week, Jesse Goldberg-Strassler and Mick Gillispie discuss The Baseball Thesaurus and the language of baseball, broadcasting and broadcasters, and the big stories of the week on Ballpark Digest.

Jesse Goldberg-Strassler is the Voice of the Lansing Lugnuts and the author of The Baseball Thesaurus and The Football Thesaurus. Mick Gillispie is the Voice of the Tennessee Smokies and a spring-training broadcaster for the Chicago Cubs, as well as the winner of the Broadcaster of the Year in the 2017 Ballpark Digest Awards. Topics covered in this Facebook Live chat: MLB vs. MiLB fan experience, Pat Hughes's eight attributes of a top-notch broadcaster, a Wild Bill Hagy shout-out, and more.
The next Facebook Live chat is scheduled for 11 a.m. Eastern / 10 a.m. Central on Thursday, Jan. 31. Ask a great question and we may throw a free book your way. See you there!
To watch and participate, just visit and follow the Ballpark Digest Facebook page: