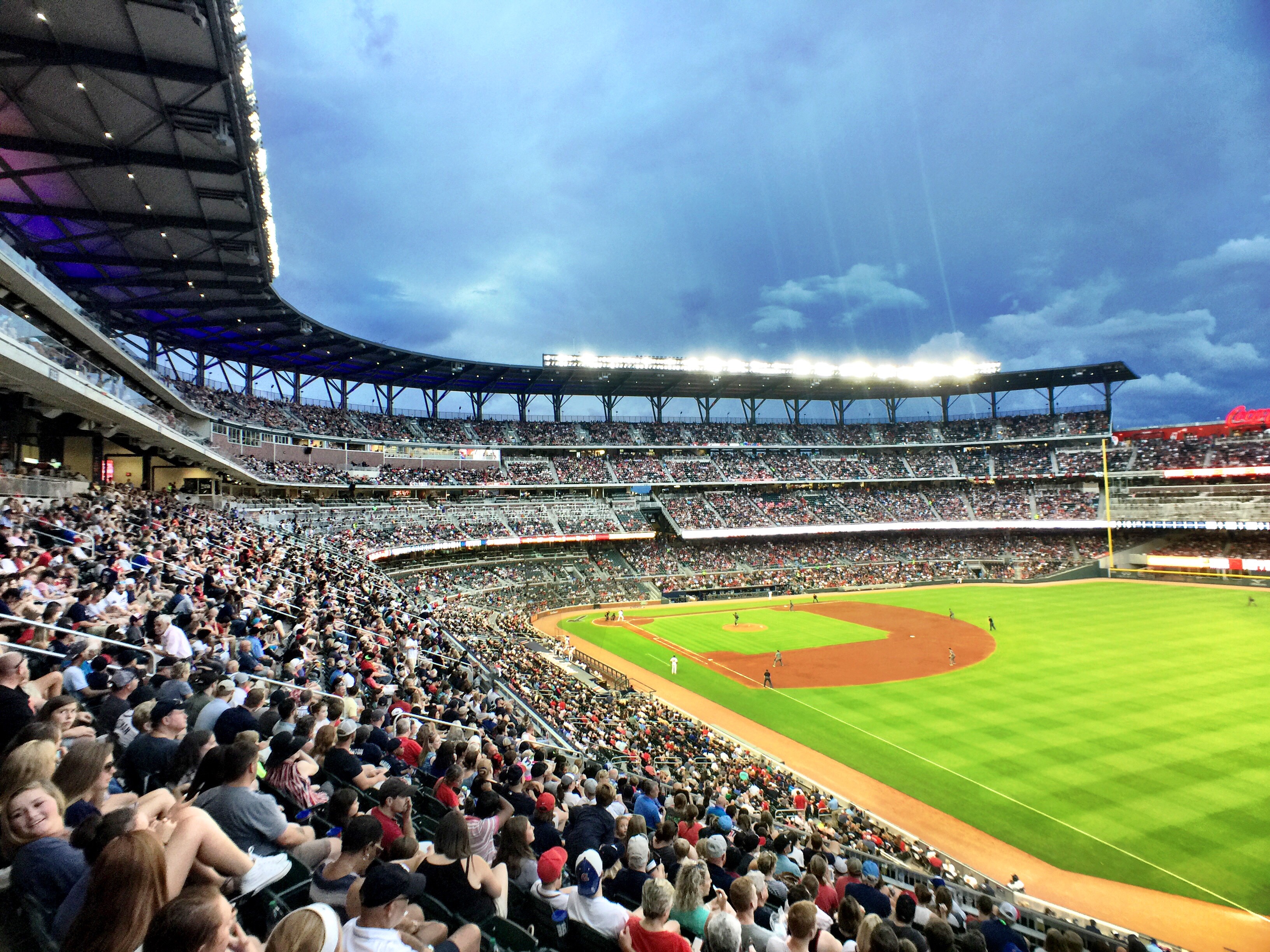 With a fan-forward design incorporating the latest in social spaces and tech, office/hotel development extending beyond the ballpark walls and a top-notch next-door entertainment district, SunTrust Park, opening this season as the home of the Atlanta Braves, is our 2017 Ballpark of the Year.
In the end, it really wasn't a hard decision, despite the fact that four very good new professional ballparks opened this season. When SunTrust Park debuted in April, it was hailed as a facility that advanced the state of the art in sports architecture and praised as a model for MLB teams as they move forward on new-ballpark plans or renovations to existing facilities. After several months of use, those predictions are proving to be true. SunTrust Park is a hit with fans, and as development surrounding the ballpark continues, it should prove to be an economic engine for Cobb County on a year-round basis.
And inside the ballpark? There's something for everyone, ranging from hardcore Braves fans to casual fans wanting to hang out with friends and share a round or two of beer.
"We are extremely honored to receive this award," said Terry McGuirk, Braves Chairman and CEO. "Our hope with this project was to have something for everyone inside SunTrust Park and to have a place for our fans to go before and after games. An award like this confirms we took the right path."
What makes SunTrust Park a template for future ballparks? Several factors stand out:
SunTrust Park is the center of a larger development that includes office space, a hotel and an entertainment district—The Battery. The ballpark is purposely designed to be a year-round economic player in Cobb County, serving as a center of activity even when there are no MLB games on the docket.
Community is everything at SunTrust Park, with social spaces available for both small and large groups. The ballpark is designed to appeal to every kind of baseball fan, ranging from hardcore Braves game-day devotees to casual fans wanting to hang out with friends on a sunny day.
Southern hospitality is on full display at SunTrust Park, with a robust set of food and beverage offerings, including local specialties and even a microbrewery.
A unique design that takes a challenging location and turns it into an intimate, fan-forward ballpark with plenty of unique vantages and viewpoints. The Braves' history, ranging from the team's roots in Boston to Henry Aaron's historic accomplishments to more recent World Series wins, is highlighted in a unique Monument Garden (shown below). And there is truly a space to match the needs of every fan.
"Inspiration from the culture and history of both Atlanta and the Braves organization allowed us to design SunTrust Park to be an icon of southern hospitality," said Earl Santee, Populous Principal in Charge. "From the kid's zone to the clubs and rooftop decks, SunTrust Park is truly a place where people love to be together and a model for future Major League Baseball ballparks."
When SunTrust Park opened, we focused on the design side of the equation and the many food and beverage options at a Braves game, while Populous's Joe Spear presented an overview of hospitality as central to the SunTrust Park design. Later in the season we took an in-depth look at how the Braves create community at SunTrust Park with design and tech.
SunTrust Park joins a distinguished list of ballparks honored by Ballpark Digest as Ballpark of the Year, including Minnesota's Target Field (2010), Columbia's Spirit Communications Park (2016), St. Paul's CHS Field (2015), El Paso's Southwest University Park (2014) and Arizona's Salt River Fields at Talking Stick (2011).