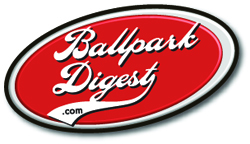 A Memphis Redbirds rebranding, the passing of former Green Bay Bullfrogs owner Jeff Royle and the look of the 2017 Fresno Tacos led the list of most popular new stories published on Ballpark Digest this week.
Here are the top 10 new stories of the week, as measured by page views.
Memphis Redbirds Unveil New Logos
The Memphis Redbirds (Class AAA; Pacific Coast League) unveiled new logos for the 2017 season. Complete with new uniforms, the overhaul to the Redbirds takes inspiration from some Memphis landmarks as well as the team's parent club, the St. Louis Cardinals.
Braves to Negotiate New Sarasota County Spring Complex
The Atlanta Braves will enter into exclusive negotiations on the terms of a new Sarasota County spring training complex in North Port to replace Champion Stadium and Disney's Wide World of Sports in 2019.
In Memoriam: Jeff Royle
Some sad news to pass along: Jeff Royle, the founder and former president of the Green Bay Bullfrogs (summer collegiate; Northwoods League), passed away on Tuesday. He was 48 years old.
Grizzlies Unveil 2017 Fresno Tacos Uniforms, Buy Taco Emoji
One of baseball's most notable promotions is back in 2017, as the Fresno Grizzlies (Class AAA; Pacific Coast League) have unveiled their Fresno Tacos uniforms.
Fenway Park to Host NCAA Football This Fall
College football will be played at Fenway Park this fall, as the Boston Red Sox have announced that the ballpark will a trio of Division I games.
PawSox Considering Apex Site for Ballpark
Talks are on for a new Pawtucket Red Sox (Class AAA; International League) ballpark in downtown Pawtucket, as the team is reportedly interested in the Apex property.
Twins, Phillies Open Dominican Republic Academy
On Tuesday, the Minnesota Twins and Philadelphia Phillies unveiled their shared Dominican Republic Academy in Boca Chica.
MLB Ballparks Host Packed Concert Slate
Based on announcements that have been made over the last few weeks, this summer is going be a busy one when it comes standout concerts at major league ballparks. The upcoming slate features headline acts at some of baseball's most notable venues, providing another layer of entertainment at many venues during the summer.
Flying Squirrels Optimistic on New Ballpark Costs
As the Richmond Flying Squirrels (Class AA; Eastern League) unveiled the latest enhancement to The Diamond, team officials indicated that new ballpark talks are making progress.
Reno 1868: Building Pro Soccer on a Baseball Blueprint
In the past several years we've seen MiLB teams add professional soccer to their schedules. This season sees the Reno Aces (Class AAA; Pacific Coast League) add a United Soccer League team, Reno 1686 FC, to the mix at Greater Nevada Field.
Here are other popular stories on other August Publications sports-business sites:
Handicapping MLS Expansion: January 2017 Edition
Late December and early January was a hectic period when it came to future MLS expansion, but we're not sure things are much more clearer.
Mapping the NASL's Future in 2017 and Beyond
The decision by the U.S. Soccer Federation to grant the NASL provisional Division II status for 2017 may have been a short-term clarification of where the league stands, but a lot more work remains when it comes to a long-term game plan.
Vanderbilt Could Partner on Nashville MLS Stadium
Nashville's MLS bid could have a key partner, as Vanderbilt University athletic director David Williams has confirmed discussions about a joint stadium proposal.
Preview: Chase Center
Sacramento's Golden 1 Center may have just opened, but it won't be the NBA's newest arena in California for very long. On Tuesday, the Chase Center, the new home of the Golden State Warriors, celebrated its groundbreaking, marking the beginning of yet another new NBA venue.
KeyArena Renovation Talks Continue
Talks of a renovation to KeyArena are gathering steam, with Seattle officials focusing on the effect it could have on Seattle Center.
Target Center Renovation Receives More Private Funds
The ongoing Target Center renovation is receiving more funds, as Minnesota Timberwolves and Minnesota Lynx owner Glen Taylor is adding to the project. Taylor will contribute an estimated $9-$12 million to add new amenities to the renovation, with the additions including seating and technology upgrades.
Qualcomm Stadium Leaves Legacy in NFL
For San Diegans, their ancient football stadium has become nothing more than a concrete case of emotion.
Inglewood, Coliseum Factor into LA's 2024 Olympics Bid
Two prominent football stadiums could shape Los Angeles' bid for the 2024 Olympics, as a proposal calls for the Coliseum to split the opening ceremonies with a future stadium in Inglewood.
Aloha Stadium Replacement Gathers Momentum
The push to replace Aloha Stadium with a smaller, more modern facility is gaining momentum, as officials are moving ahead with plans for a new stadium.