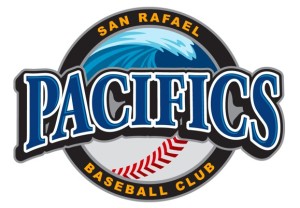 With the regular season approaching, the San Rafael Pacifics (independent; Pacific Assocation) have unveiled a series of upgrades at Albert Park. 
Among the improvements are new features that will enhance both the fan and player experiences. To that end, one of the biggest additions to Albert Park is a brand new scoreboard. Located in right-centerfield, the scoreboard was donated by the International Brotherhood of Electrical Workers Local 551.
"This new scoreboard is going to offer our users and their fans a much better experience at Albert Park," said Carlene McCart, San Rafael's Community Services Director. "I want to personally thank the IBEW Local 551 for their generosity and community spirit."
Among the many other renovations to the 1950's era ballpark provided by the Pacifics is the new "Third Base Plaza" replacing the dirt groundscape area extending from the base of the grandstand stairs opposite the third baseline, a newly lit and freshly painted entry gate, new outfield fence windscreens, and improvements to the visitor's locker room.
"Protecting and improving Albert Park is a critical part of our commitment to the community and key to our mission to honor the game of baseball," said Pacifics President and General Manager Mike Shapiro. "This was all made possible because of our great partnership with the City and our common desire to make Albert Park a cherished public asset."
The renovations occurred as the result of a partnership between the Pacifics and the City of San Rafael.