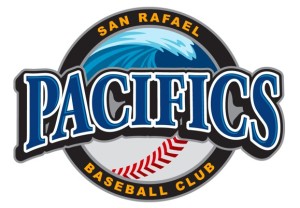 In a drastic step to raise awareness for water conservation, the San Rafael Pacifics (independent; Pacific Association) are launching the Get Dirty With the Pacifics campaign. As part of this effort, the Pacifics will reduce their water consumption by not washing their uniforms after home games that are attended by 500 or more fans.
"The Pacifics want to do their part to call attention to California's drought conditions, so we won't wash our uniforms for games where we draw 500 fans," said Pacifics Vice President of Marketing Kim McGinnis. "We're hoping that this campaign will engage our fans in an innovative and fun way and, at the same time, potentially save thousands of gallons of water on our laundry."
"Get Dirty with the Pacifics" was created as a partnership with MCE and Marin Municipal Water District.  The program could save over 3,400 gallons of water if every Pacifics home game is attended by at least 500 fans, half the capacity of Albert Park. The campaign will feature a "gallons saved" counter at the main entrance to Albert Park and a reusable water bottle giveaway to the first 200 fans to enter the ballpark courtesy courtesy of Marin Municipal Water District on Water Conservation Day on July 30.
In an additional effort to increase sustainability, Pacifics players and staff will also abandoning paper cups and plastic water bottles in favor of reusable water bottles to drink from during the game.
"We're very excited to be partnering with the Pacifics this summer. Water conservation is the best insurance we have against drought as even in the best of times, Marin only has a two-year supply of water," said Marin Municipal Water District Board President Cynthia Koehler.
The Pacifics begin their 2016 season with an exhibition game at Albert Park against the Pittsburg Diamonds on Thursday, May 26th at 7:05, and will play their home opener on June 7th against Pittsburg, with Grateful Dead Bassist Phil Lesh tabbed to sing the Star Spangled Banner.