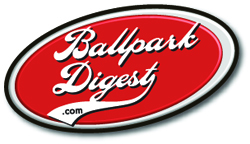 We're finally winding down our 2015 awards season, and today's entry covers the burgeoning field of sports tech. Running a ballpark today is a tech enterprise, and tracking and managing that data is the centerpiece of Stadium 1 Software, winner of Ballpark Digest's Best New Technology Tool for 2015.
"Data drives every kind of business these days, and keeping track of that data is an important task for team owners and management," said Kevin Reichard, Ballpark Digest publisher. "Stadium 1 Software takes a big-picture approach to managing sports-venue operations, connecting all revenue and expense channels and translating those numbers in real-time to owners and GMs."
"On behalf of our company we are very proud to receive this award from Baseball Digest," said Bruce Quinn, President of Stadium 1 Software LLC. "We want to thank our many customers who continue to support our efforts and the thousands of stadium employees and fans who use our product on a daily basis."
In real time, Stadium 1 Software manages all aspects of ballpark operations, including all revenue streams, point-of-sale transactions, in-seat ordering, loaded tickets, customer-loyalty and advertising. Reporting is rolled up into a dashboard app for easy management overview, with costs-of-goods information helping to guide profitability decisions. The data resides in the cloud, and team owners and GMs can summon real-time numbers and analysis anywhere with an Internet connection. Instead of waiting days or weeks for per caps, owners and management can see the information immediately.
Teams can also use Stadium 1 Software to improve the fan experience with programs like a Loyalty Mobile Application, which lets management set up a totally configurable customer rewards program based on purchases or other criteria.
"Baseball seasons are short, and many owners and GMs want to make decisions based on up-to-the-minute data," Reichard said. "Stadium 1 Software was a success because it offered team owners the kind of information they need to make those decisions."
This was a good year for sports tech. We saw several new videodisplay installations from Daktronics on both the MLB and MiLB level using their cutting-edge high-def technology: to compare display technology to just five years ago is to see a tremendous advancement in the space. Just as importantly, the tools to create that great content keep advancing as well. To wit: This past summer we announcing the winner of the Ballpark Digest Best of the Ballparks awards at the Southern League All-Star Game. The video announcing that award was recorded on an iPhone using the standard Camera app combined with a specialized app, Horizon, allowing for horizontal video. That video was sent to the Montgomery Biscuits production team via a cloud upload and played in high-def glory at Riverwalk Stadium. Now, this is a pretty basic example of what can be done at the ballpark — but it's something not really easily done five years ago.
Other technology is making an impact in the ballpark. Virtual reality is surging in the work environment, and we're seeing that in the work of Fox Virtual Tours, who recently completed a Google Virtual Tour of Fifth Third Ballpark for the West Michigan Whitecaps (Low A; Midwest League). Check it out here. Google Street View technology allows users to see 360-degree panoramas of the entire ballpark, including many seating sections to provide accurate vantage points, all of the group outing areas, the Super Suite, and the CapSized Shop. The tour also includes interesting locations that Whitecaps fans may never have directly seen before, such as the view from the playing field. You can read more information about the tour here.