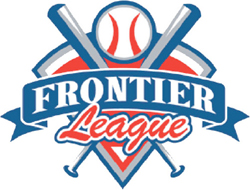 Good idea: the independent Frontier League, now in its 22nd season, is launching a Hall of Fame, with inductees Morgan Burkhart, Aaron Ledbetter, Scott Pinoni, Fran Riordan, Kirk Taylor and Dr. W. Chris Hanners to be honored at the league All-Star Game.
Also to be recognized at the All-Star Luncheon on Tuesday, July 15 at the Casino Queen in East Saint Louis, Illinois: Brett Gray's 25-strikout game for the London Werewolves.
"I am extremely pleased to be able to honor our Hall of Fame inductees," said Frontier League Commissioner Bill Lee. "The Frontier League is the oldest operating independent league and without the contributions of these individuals we would not be here today. I am deeply grateful to all of them and I look forward to watching the Frontier League Hall of Fame grow."
Called "The Babe Ruth of the Frontier League" by Peter Gammons, Morgan Burkhart was a first baseman for the Richmond Roosters from 1995-1998. The Frontier League's Most Valuable Player award is named after Burkhart, who was the recipient in 1996, 97, and 98. He holds the Frontier League's single-season home run record with 36 in an 80-game schedule in 1998. Burkhart compiled a .353 career batting average with 86 home runs and 306 RBI. He was signed by the Boston Red Sox following his time in Richmond and became the first position player to advance to Major League Baseball when he made his debut on June 27, 2000 with a single off of Mike Mussina in his first at bat. Burkhart was the field manager for Windy City during the 2012 season.
Aaron Ledbetter played for the River City Rascals and Washington Wild Things from 2003-08 and was named Pitcher of the Year in 2007. He holds the Frontier League career record for games started, innings pitched, and wins. In 103 career Frontier League games (98 starts), Ledbetter posted a 54-37 record with a 3.35 ERA and 522 strikeouts.
Scott Pinoni played first base for the Chillicothe Paints in 1996, 1998, and 1999, and was selected a Post-Season All-Star each season along with being named Most Valuable Player in 1999. Pinoni ranked second in Frontier League history in career home runs (58) and RBI (237) when he left, along with having a .332 batting average over 221 Frontier League games.
Fran Riordan played for the Richmond Roosters in 1997, 1998, 2001, and 2002 and for the Dubois County Dragons in 1999 and 2000. He was a Post-Season All-Star in 2000, 2001, and 2002 and held the Frontier League career records for games played, at bats, and RBI while ranking second in hits when he finished. In 411 Frontier League games, Riordan compiled a .295 batting average with 449 hits, 50 home runs, and 312 RBI. He served as player-manager for Dubois County in 2000 and for Richmond in 2001 and 2002 then returned to the Frontier League as field manager for Kalamazoo from 2004-09 and has led the Florence Freedom since the 2011 season. Riordan has three Frontier League titles as a manager (2001, 02, and 05) and is the career leader in managerial wins.
Kirk Taylor was an outfielder for the Ohio Valley Redcoats in 1998 and the Johnstown Johnnies from 1999-2001. He was selected a Post-Season All-Star in 1998, 2000, and 2001 and the Frontier League Most Valuable Player in 2001. A member of Johnstown's 2000 championship team, Taylor finished with a .320 batting average, 64 home runs, 275 RBI, and 87 stolen bases in 327 Frontier League games. He managed Johnstown during the 2002 season.
Dr. W. Chris Hanners founded the Frontier League prior to the 1993 season and owned the Chillicothe Paints from 1993 through 2008. He has owned the Rockford Aviators since 2011. Hanners served as Frontier League President from 1993-2003 and Chairman of the Board from 2004-08.
The London Werewolves celebrated their 1999 Frontier League Championship during their home opener on June 3, 2000. With MLB Hall of Fame pitcher Bob Feller in attendance, Brett Grey took the mound for the Werewolves and proceeded to strike out 25 Chillicothe batters. During the ninth inning of the game, Gray requested a mound visit from the London pitching coach, Bruce Grey, his father. Brett Grey used the visit to ask his father to serve as the Best Man in his upcoming wedding. Following the game, the Baseball Hall of Fame in Cooperstown requested Brett's glove and a ball from the game, and Brett was signed by the Cincinnati Reds the next day.
The Hall of Fame selection committee, as appointed by the Frontier League's Board of Directors, included Rockford Aviators' President Bryan Wickline, Gateway Grizzlies' General Manager Steve Gomric, and Evansville Otters' Field Manager Andy McCauley. In addition, Frontier League Commissioner Bill Lee and Deputy Commissioner Steve Tahsler were part of the committee. These five individuals combine for 80 years of service in the Frontier League.
Three categories were established, players, special contributors, and special moments. In order to be eligible for consideration, players must have been on one of the two All-Decade Teams (1993-2002 and 2003-2012). In addition, they must have finished playing in the Frontier League for at least three seasons and finished playing professional baseball for at least one season.
—-
Share your news with the baseball community. Send it to us at editors@augustpublications.com.
Are you a subscriber to the weekly Ballpark Digest newsletter? You can sign up for a free subscription at the Newsletter Signup Page.
Join Ballpark Digest on Facebook and on Twitter!
Follow Ballpark Digest on Google + and add us to your circles!