The Chicago Cubs and the city of Mesa yesterday broke ground on a new $99-million spring-training complex, slated to open for the 2014 season. Take a peek at the new renderings.
The ballpark, to be designed by Populous, will hold 15,000 fans and include a videoboard, shaded seats and luxury suites. The new complex will also include seven full-size practice fields and one infield-only natural-turf practice field.
"This is a huge day for Mesa and the Cactus League as we move a step closer to creating a state-of-the-art stadium, training facility and signature park that our residents, all Arizonans and Cubs fans from here to Chicago will enjoy for many years to come," Mayor Scott Smith said. "We are grateful to the Mesa voters who made this a reality and I know they will be proud of what we are about to build."
"Spring training in sunny Mesa has been special for Cubs fans from around the country for more than 50 years," Chicago Cubs Chairman Tom Ricketts said. "We are very excited the great tradition of Cubs baseball will continue in Mesa with a new stadium that will provide our players access to a world-class training facility year round while offering the best fan experience possible to visitors and residents."
The project will also reconfigure Riverview Park and will feature an innovative playground, large grass and shaded areas, event space and interactive water features. The lake will serve as both an urban fishing oasis and irrigation for the entire site of more than 150 acres. New pedestrian paths will connect the park and lake to the new stadium while gathering areas will be created for various community events to occur.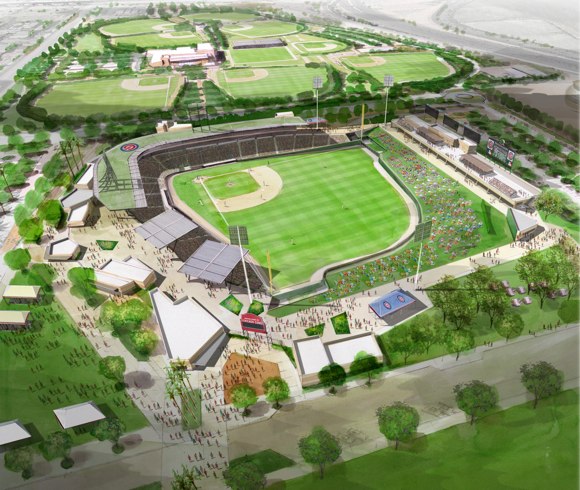 "The transformation of Riverview Park will make it an anchor point for the surrounding development and a point of pride for all Mesa residents. When the construction is finished, they will like what they see," District 1 Councilmember Dave Richins said.
Renderings courtesy of City of Mesa.
RELATED STORIES: Groundbreaking for new Cubs complex set for Wedneday; ASU-Cubs spat may have unexpected beneficiary: Phoenix Muni; Groundbreaking scheduled for new Cubs spring facility; Cubs, Mesa finally ready to sign lease for new spring facility; Wrigleyville West delays possibly extended; Populous, Hunt land Cubs spring-site design; Ricketts: Not so fast on Wrigleyville West; New Cubs spring facility approved by Mesa voters; Wooing voters, Mesa and Cubs release ballpark renderings;Riverside Park emerges as choice for Cubs spring-training facilities; Study evaluates potential Cubs spring-training sites; Five sites emerge as home for new Cubs facility; Cubs to Naples: We prefer to stay in Arizona, thank you; Florida group to Cubs: Tell us if we're really in the running to land spring training; Naples: We think we still have shot at landing Cubs spring training; Cubs, Mesa working on new spring-ballpark agreement; Mesa: We'll finance Cubs ballpark on our own; State funding for Cubs spring facility "dead"; Florida explores new money for luring Cactus League teams; Selig pushes Cubs aside, will directly negotiate funding of new spring venue; Legislators: Yup, we want Cactus League ticket tax; Cubs: We're not wedded to idea of Cactus League ticket tax; Cactus League teams, Selig oppose Cubs spring-training funding; Mesa to ask for state aid to keep Cubs; Cubs seriously looking at Naples spring-training bid; Naples: We're serious about landing the Cubs; Ricketts to visit Mesa next week to tour potential spring-training sites; Lawmaker: Florida should up spending to lure spring camps for Cubs, Brewers; Cubs' spring-training future doesn't lie in HoHoKam Park; Mesa delegation to pitch Cubs on spring-training facilities
—-
Share your news with the baseball community. Send it to us at editors@augustpublications.com.
Are you a subscriber to the weekly Ballpark Digest newsletter? You can sign up for a free subscription at the Newsletter Signup Page.
Join Ballpark Digest on Facebook and on Twitter!
Follow Ballpark Digest on Google + and add us to your circles!