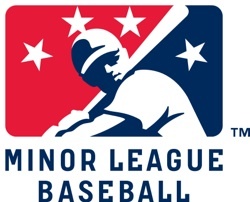 Minor League Baseball and Nationwide have announced a new multi-year partnership, making Nationwide the "Official Insurance Partner of Minor League Baseball."
Under the terms of the new agreement, Nationwide secures exclusive national rights in the insurance category, becomes the latest commercial partner of MiLB's industry-leading Hispanic fan engagement platform, Copa de la Diversión ("Copa"), and is a presenting partner of several new fan-centric ownership platforms. 
"Our partnership with Nationwide presents a unique opportunity to drive value for Minor League Baseball fans, teams, and communities while supporting many of the attributes that make Nationwide an industry leader in insurance services," said Minor League Baseball's Chief Marketing & Commercial Officer David Wright. "From highlighting Nationwide's small business and pet insurance products to chronicling incredible player journeys and our diversity and inclusion efforts, I look forward to seeing this relationship grow for many years to come." 
MiLB has also created several new platforms as pillars of Nationwide's partnership. During May and June, the "Small Business of the Month, Presented by Nationwide" program will recognize small business owners in participating MiLB markets. The partnership will also include a "Pet of the Month, Presented by Nationwide" activation in July and August. In 2020, fans will be introduced to a content series, "The Road to the Show, Presented by Nationwide," which will follow some of baseball's top prospects during their journeys through the Minors to making their Major League Baseball debuts. 
"Nationwide has been an industry leader in using sports sponsorships as a way to connect with consumers and partners," said Ramon Jones, Nationwide's chief marketing officer. "This new partnership with Minor League Baseball provides ample opportunities to share the Nationwide story with the more than 41 million fans that visit Minor League Baseball ballparks every year. It also allows us to showcase our insurance agents as the trusted members of the community they truly are. We're excited to begin working with the teams and getting to know the fans!"