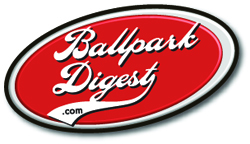 In case you missed this morning's Facebook Live Ballpark Digest Broadcaster Chat with Mick Gillispie and Jesse Goldberg-Strassler, we have an embedded version for you to view. Enjoy!
This week's topics cover lingo, big calls and a general broadcaster topic. The lingo: a snocone catch. The big call: Tom Hamilton's call of Rajai Davis's HR off Aroldis Chapman. The topic: animals at the ballpark.
Jesse Goldberg-Strassler is the Voice of the Lansing Lugnuts and the author of The Baseball Thesaurus and The Football Thesaurus. from August Publications. Mick Gillispie is the Voice of the Tennessee Smokies and a spring-training broadcaster for the Chicago Cubs, as well as the winner of the Broadcaster of the Year in the 2017 Ballpark Digest Awards.
The Ballpark Digest Broadcaster Chats are scheduled weekly on Thursdays at the Ballpark Digest Facebook Page. Head there for notifications and more information!