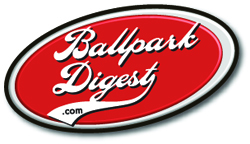 Join Jesse Goldberg-Strassler and Mick Gillispie on their weekly Facebook Live chat via the Ballpark Digest page, as they discuss the language of baseball, broadcasting and broadcasters, and the big stories of the week on Ballpark Digest.
Jesse Goldberg-Strassler is the Voice of the Lansing Lugnuts and the author of The Baseball Thesaurus and The Football Thesaurus, which make up the Ultimate Sports Lingo Library.  Mick Gillispie is the Voice of the Tennessee Smokies and a spring-training broadcaster for the Chicago Cubs, as well as the winner of the Broadcaster of the Year in the 2017 Ballpark Digest Awards.
This week's topics: how the popular phrase "can of corn" came to be, their favorite broadcast booths, and the most unusual places they've called a game over the years.
The next Facebook Live is scheduled for 11 a.m. Eastern / 10 a.m. Central on Thursday, Feb. 7. Ask a great question and we may throw a free book your way. See you there!
To watch and participate, just visit and follow the Ballpark Digest Facebook page:
If you missed it, here's last week's chat. (Yes, there were some audio issues, but they were temporary.)