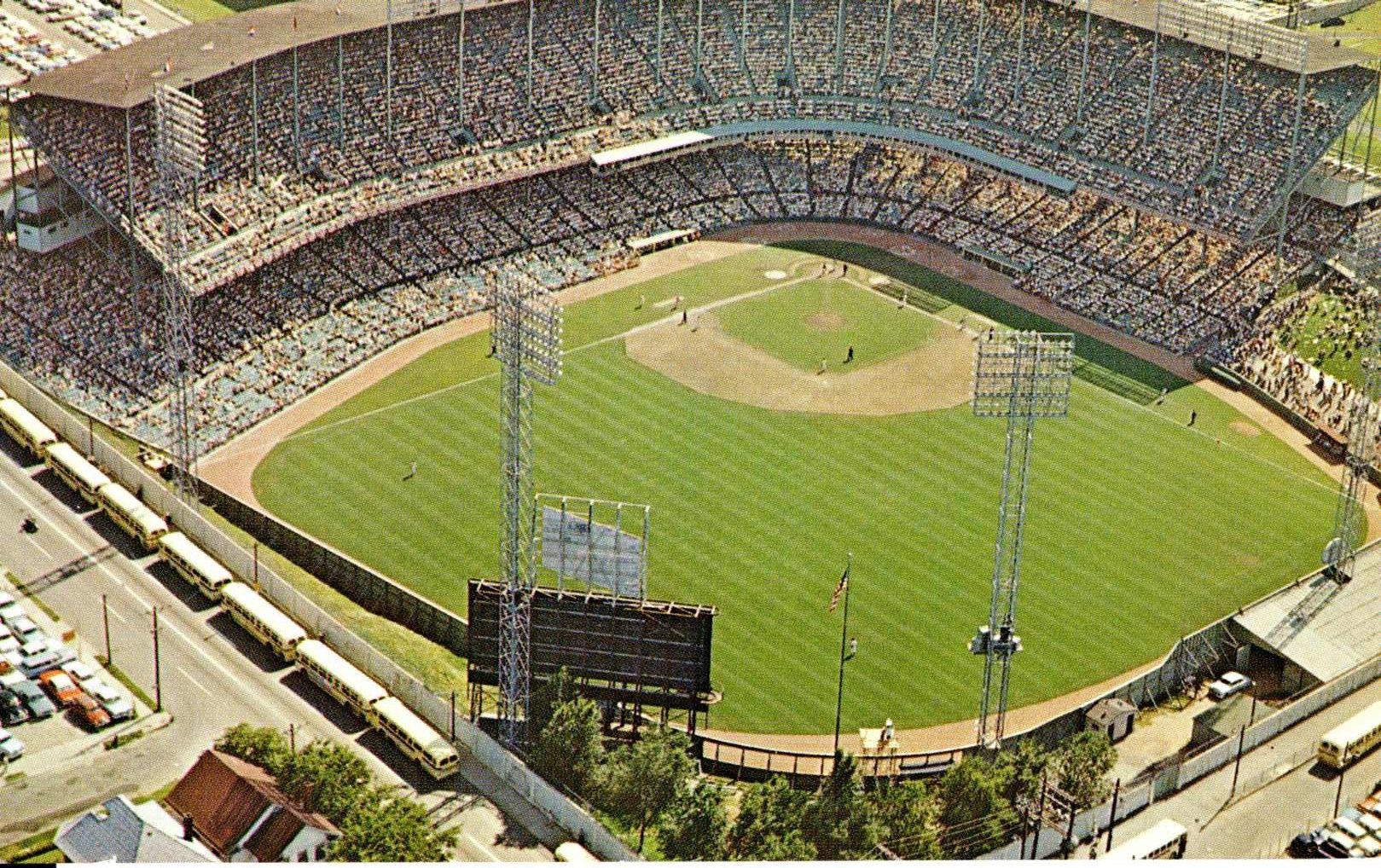 The year 1969 was a big one in Major League Baseball, as four expansion teams were added to the mix. This month we're looking back at the four expansion ballparks. Last week it was the original San Diego Stadium. This week we look at the only one of the four to have previously hosted Major League Baseball: Kansas City's Municipal Stadium.
By the time Wally Bunker took the mound for the expansion Kansas City Royals on April 8, 1969, Municipal Stadium had seen plenty of historic baseball moments and colorful personalities on and off the field over a 50-year MiLB and MLB run.
Out of the four 1969 MLB expansion ballparks, Municipal Stadium was the only one to have previously hosted Major League Baseball, serving as home of the Kansas City Athletics from 1955 through 1967. Like two other expansion homes—Jarry Park and Sick's Seattle Stadium—Municipal Stadium was seen strictly as a temporary facility, pressed into use after MLB was forced into a premature expansion. In fact, Kansas City was key to the premature MLB expansion.
Major League Baseball expansion work officially began in 1967, when Charlie Finley proposed moving his Athletics from Kansas City to Oakland. Finley's tenure as the A's owner was a rocky one; after an early honeymoon period, local fans tired of his unstable management of the team, both on the field and in the front office. Kansas City officials had been working on a plan for a new ballpark to replace Municipal Stadium, but Finley didn't believe they would follow through if he still owned the team. His move triggered a series of moves that included an influential U.S. senator, Stuart Symington (D-MO), claiming he'd work to revoke MLB's antitrust exemption if Kansas City had to wait until 1971 for expansion, MLB's preferred timeline. So MLB forged ahead with expansion, pressing older facilities like Municipal Stadium and Sick's Seattle Stadium into service.
That 1969 Royals expansion team was not an exceptionally compelling crew, save Rookie of the Year Lou Piniella and a young Dick Drago. And, given the ballpark's rich history, that expansion year was a mere blip, a holding room until Royals Stadium opened in 1973.
From MiLB to MLB
Municipal Stadium began life as a single-deck Minor League Baseball ballpark, opening in 1923 as Muelebach Field, home of the American Association's Kansas City Blues. Located at 22nd Street and Brooklyn Avenue, the ballpark extended the business empire of hotelier and brewer George E. Muehlebach. His was an inherited empire: his father, the original George Muehlebach, launched the Muehlebach Brewing Company, which grew into one of Kansas City's largest breweries. George E. Muehlebach further expanded his holdings with the opening of the Hotel Muehlebach, considered Kansas City's most opulent property.
So an extension into pro baseball and construction of a new ballpark was a natural move. Muehlebach was hardly the only beer magnate to branch into baseball—Col. Jacob Ruppert and Emil Sick come to mind—and by the time he bought the team, the Blues were a well-established MiLB team. Building a new ballpark became a necessity after Association Park became unavailable in 1923.
Muehlebach Field featured two tenants: the Blues and the Kansas City Monarchs, the Negro Leagues juggernaut featuring the likes of Bullet Rogan, Newt Allen, Satchel Paige, Hilton Smith, Jackie Robinson, Ernie Banks and Buck O'Neil. Though the team spent large stretches of time as a barnstorming squad over the years, the Monarchs grew into a true Kansas City institution.
Muehlebach Field was sold to the New York Yankees in 1937 and renamed Ruppert Field after Yankees owner Jacob Ruppert. It later became Blues Stadium in 1943, and in 1953 it was sold to businessman Arnold Johnson, who owned Yankee Stadium and was a co-owner of Canteen concessions with Yankees owners Del Webb and Dan Topping. Mickey Mantle and Phil Rizzuto played there; Casey Stengel and Tris Speaker managed there.
Enter the Athletics
When Kansas City reached the majors in 1955 with the move of the Philadelphia Athletics—under the ownership of Arnold Johnson, who ran the team as a Yankees farm team, sending solid players to New York for long-shot prospects and has-beens—Blues Stadium became the base of an expanded facility, renamed Municipal Stadium. A towering upper deck was constructed over the existing Blues Stadium grandstand, pushing capacity to just over 30,000, with the end result a facility with plenty of obstructed views. The old Braves Field scoreboard was relocated in right-center field, and the ballpark footprint was so small the left-center light pole was in play.
After Johnson passed away in March 1960, the Athletics were sold to Charlie Finley, who brought a showman's flair to the Athletics. A mechanical rabbit, Harvey, was installed to bring balls to the home-plate umpire, with baseballs held in a basket between his ears. A compressed-air system was installed to clean home plate between innings. A zoo was installed in the right-field berm, with goats keeping the grass trimmed and fans entertained by the Charlie O mule mascot, sheep, pheasants and Capuchin monkeys, among other critters. And, taking a direct shot at the Yankees, Finley in April 1965 installed a 296-foot Pennant Porch in the right-field corner to mimic the dimensions at Yankee Stadium. That stunt lasted for two days before the American League shut it down.
But Kansas City tired of his shenanigans and a mediocre product on the field. City leaders saw the need for a new ballpark, but with Finley unsure about whether he'd reap the benefits of what would become Royals Stadium, he cast about for greener pastures—Louisville, Dallas and Denver among them. He settled on Oakland, setting into motion the machinations that led to the 1969 expansion.
The machinations, by the way, did end up benefitting both Finley and Kansas City. Finley's Oakland Athletics became a dynasty, winning consecutive World Series in 1972, 1973 and 1974. Local businessman Ewing Kauffman was awarded the Royals expansion franchise and built one of the most solid operations in all of baseball. Royals Stadium was renamed Kauffman Stadium on July 2, 1993 and continues to be one of the leading ballparks in the majors.
While all this was going on, Municipal Stadium sat unused, finally torn down in 1976. A small display at the corner of 22nd Street and Brooklyn Avenue marks the ballpark's location, but there are better spots in Kansas City to learn more about Municipal Stadium. The Negro Leagues Baseball Museum is a few blocks from the Municipal Stadium site and features plenty of information about the Kansas City Monarchs, while the Kansas City Royals installed the Royals Hall of Fame (RHOF) at Kauffman Stadium, featuring plenty of local baseball history and displays about the creation of the Royals.
Black and white image courtesy Missouri State Archives.
RELATED STORIES: Revisiting 1969 Expansion: San Diego Stadium
This article first appeared in the Ballpark Digest newsletter. Are you a subscriber? It's free, and you'll see features like this before they appear on the Web. Go here to subscribe to the Ballpark Digest newsletter.