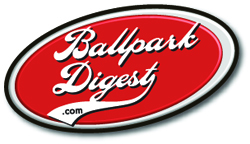 Some book news to share with you: The Complete Guide to Spring Training 2019 / Florida is now available for preorder, with an early September shipping date. For a limited time, we'll sweeten the deal with a free eBook download with every preorder!
We know many of you have begun your spring-training planning, and this guide is the perfect tool for making the most convenient hotel and airline reservations, as well as setting up your itineraries. (The only thing we can't do: provide schedules, as they're not yet released.)
Coverage is arranged by area: Gulf Coast (where the Boston Red Sox, Minnesota Twins, and Tampa Bay Rays train), greater Tampa Bay (where the Baltimore Orioles, Detroit Tigers, New York Yankees, Pittsburgh Pirates, Philadelphia Phillies, and Toronto Blue Jays train), Orlando (where the Atlanta Braves train), and the Treasure Coast/Palm Beach area (where the Houston Astros, Miami Marlins, New York Mets, St. Louis Cardinals, and Washington Nationals train).
Changes for the 2019 spring-training season are highlighted, including the new Atlanta Braves facilities in North Port, Sarasota County, as the team prepares for a delayed move for 2020 spring training. This book also previews ballpark upgrades in Clearwater, Port St. Lucie, Dunedin, and Palm Beach. Every chapter in this book had been upgraded and expanded with coverage of college ballparks and notable historic destinations throughout Florida, including a look at the ballparks where Jackie Robinson made history over 70 years ago.
This book is expected to ship on or right before the week of Sept. 9. We know many of you are eager to begin your spring-training planning, so we're offering a special deal just for you. If you preorder the Florida print version, we'll throw in a free eBook download that you can access today! Here's how. When you order this book via the link at the top of this page, put both the print edition AND a preferred eBook edition — Amazon or ePub (Nook, Apple iBooks, Sony) in your shopping cart. Then, when it's time to check out, enter EARLYBIRD as a discount code, in the upper-right corner of the page. After you enter EARLYBIRD as your discount code, your order will be discounted $7.99, and you'll receive email on how to download the eBook version. So you will have the best of all worlds! This offer will be good only until the print version ships, so act now!
Looking for information about our Arizona spring-training title? Details will be released shortly!
For more information about The Complete Guide to Spring Training 2019 / Florida, click here.