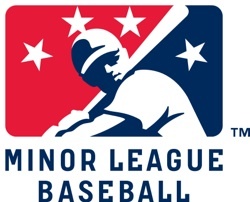 Caitlin Carter of the Visalia Rawhide (High A; California League) and Kate Voss of the Peoria Chiefs (Low A: Midwest League) are winners of the inaugural Women in Baseball Event Scholarship. The announcement was made by Minor League Baseball and Baseball Winter Meetings Supporting Partner InfoMart. 
The award includes hotel, flight accommodations and registration for the Baseball Winter Meetings, which will be held December 10 – 14 in Orlando, Florida, at the Walt Disney World Swan and Dolphin Resort. The pair will also attend the 10th annual Women in Baseball Leadership Event on Tuesday, December 12.
The goal of the Women in Baseball Leadership Event is to provide an opportunity for female executives in Minor League Baseball and Major League Baseball to network with their peers, obtain guidance on career development and enhance their professional skills. The event was established in 2008.
The Women in Baseball Leadership Event Scholarship, presented by InfoMart, was created to assist female executives in baseball who would not otherwise have the opportunity to attend the Baseball Winter Meetings. Carter and Voss were selected by members of the Women in Baseball Leadership Event committee and InfoMart from a pool of more than 60 applicants.
"InfoMart is proud to support the Women in Baseball Leadership Event for a fourth consecutive year, and congratulates both of the deserving winners and all of the amazing applicants," said InfoMart's Chief Strategy Officer, Erica Clausen-Lee. "As a woman-owned business, and a company with a keen focus on creating chances for personal and professional development among our own staff, InfoMart is always thrilled to be able to extend an opportunity like this outside of our own walls."
Carter, who currently serves as Event Coordinator for the Visalia Rawhide, began working for the team as a member of the gameday staff in 2016 and was hired full time this past February.
"Coming from an 11-year veteran female in the industry, Caitlin is the real deal," said Rawhide General Manager Jennifer (Pendergraft) Reynolds, who nominated Carter for the scholarship. "She immediately caught my eye due to her outgoing, personal and professional demeanor, her positive attitude and well-above-average work ethic."
Voss, Ticket Sales Manager for the Peoria Chiefs, recently concluded her seventh season in Minor League Baseball, including stops with the Clinton LumberKings and Memphis Redbirds before joining the Chiefs in 2015. She was named the Midwest League's nominee for the 2017 Rawlings Woman Executive of the Year Award after helping the Chiefs sales staff increase revenue in each of her three years with the club.
"Kate is always willing to go well above and beyond the call of duty to see that the Chiefs succeed, and is always the first to volunteer if something needs to be done," said Chiefs General Manager Jason Mott, who nominated Voss. "I can't think of someone more deserving and someone whom I feel will be a future star and role model for many in our industry."
The 10th annual Women in Baseball Leadership Event will be held on Tuesday, December 12, from 3 – 5:30 p.m. at the Walt Disney World Swan Resort.