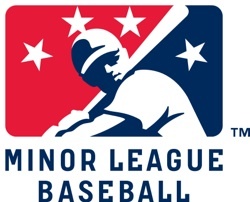 Minor League Baseball has announced several personnel moves, including the hiring of six new staff members and new roles for three current executives. 
Katie Davison has been named Senior Vice President, Digital Strategy & Business Development. She will be responsible for developing Minor League Baseball's digital strategy, establishing business goals and building the league's digital media platforms. Davison joins Minor League Baseball from Learfield, where she served as Vice President, Digital Media, overseeing Learfield's digital product, operations, and marketing. An Oregon native, Katie graduated from Trinity University in San Antonio, Texas.
Tara Thornton has been named Manager, Human Resources. Thornton will support MiLB's organizational strategic goals by planning, designing, developing and evaluating human resources-related projects. Thornton joins Minor League Baseball with more than 10 years of experience in the human resources field, most recently with Tampa General Hospital, where she served as Senior Human Resources Consultant. The Long Island, New York native graduated from the University of South Florida before earning her MBA at Arizona State University.
Shannon Finucane has been named Associate Counsel in Minor League Baseball's legal department. She will assist with club transactions and various corporate legal matters. Finucane joined Minor League Baseball as a legal intern in Spring 2017 while completing her final semester of law school. A Cortland, New York, native, Finucane has a Bachelor of Arts in psychology from Amherst College and a Juris Doctor from Stetson University College of Law.
Belicia Montgomery has been named Analytics Specialist, where she will provide support to all departments of the MiLB office with research, data collections management and strategy. Montgomery joined MiLB in 2016 as a Marketing Research and Strategy Resident and was hired full time in May 2017. Prior to joining MiLB, Montgomery held marketing roles in the University of South Florida's Athletic Department and at H&R Block. She received her Bachelor of Science in Marketing from the University of Alabama at Birmingham and obtained her Masters of Business Administration and Masters of Sport and Entertainment Management from the University of South Florida.
Will Kent has been named Manager of Partnership Marketing, and will be responsible for managing and executing strategic programs for national partners of Minor League Baseball. Kent worked with Ticketmaster and Wasserman before joining the MiLB team in April 2017. He received his Bachelor of Arts in Marketing from Texas State University in 2010, and his MBA/MSBM from the University of Central Florida's DeVos Sport Business Management Program in 2014.
Brad Friedman joined Minor League Baseball in April 2017 as the first-ever in-house Social Media Marketing Coordinator. His duties include operating MiLB's social media platforms and developing social strategies that showcase all sides of MiLB. He also serves as an advisor and contact for team social media directors to help develop and advance their social media strategies. Friedman came to MiLB after social and digital marketing stints with the New Orleans Saints, New Orleans Pelicans, Columbus Blue Jackets and Columbus Crew SC. The Columbus, Ohio native is a graduate of Ohio University's E.W. Scripps School of Journalism where he studied journalism and marketing.
In addition to these hires, Minor League Baseball recently shifted three staff members into new roles.
Stefanie Loncarich has been named Director, Special Events. Stefanie will oversee the planning and operation of the Minor League Baseball Promotional Seminar and the annual Baseball Winter Meetings. Loncarich began working at Minor League Baseball in 2015 following one year as a Team Advisor at IMG Academy in Bradenton, Florida, and several years working for Minor League Baseball teams.
Courtney Nehls has been named Assistant Director, Community Engagement. Courtney will oversee Minor League Baseball Charities initiatives and partnerships. Minor League Baseball Charities is dedicated to giving back and enhancing the communities of MiLB's affiliates. Nehls joined Minor League Baseball in 2014, following five seasons as Manager of Game Entertainment for the Tampa Bay Rays.
Mark Labban has been named Senior Manager, Special Events & Affiliate Programming. Mark will oversee the production of Minor League Baseball's special events, including the Promotional Seminar and all Baseball Winter Meetings-related events (Bob Freitas Business Seminar, Opening Session, Banquet and Awards Luncheon). He will also continue to oversee the Professional Baseball Employment Opportunities program. Labban joined Minor League Baseball in 2011 as a Business Development intern.