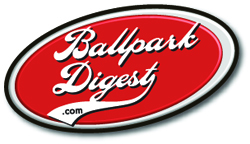 After a first round with over 23,000 votes cast and several huge upsets, we're set for the second round of the Best of the Ballparks 2017 fan vote for independent facilities. Despite the volume, several decisions were made by 20 or fewer votes — so your vote does count!
It was a round of upsets, as fans clearly disregarded our seedings. The biggest upset saw The Corn Crib, home of the Normal CornBelters, voted to the next round over our #2 seed, CHS Field, home of the St. Paul Saints. Another huge upset: Slammers Stadium, home of the Joliet Slammers, voted in over our #3 seed, Shaw Park, home of the Winnipeg Goldeyes. Other top-ten seeds going down in this first round included Jimmy John's Field, home base for the four USPBL teams; State Canac, home of the Quebec Capitales; and Boomers Stadium, home of the Schaumburg Boomers. With these upsets, it was a good first round for the Frontier League.
With these tallies in hand, we're ready to move on to the second round of voting. You have until June 21, 7 a.m. Eastern, to register your choices.
We are running the contest with seeded brackets, so there will be plenty of action in coming days. We're almost to the end of MiLB voting, where the competition is broken down into Triple-A, Double-A, High-A and Low-A. This is the launch of voting for the top independent leagues, and soon we'll begin the vote on short season A and rookie-league ballparks. And, of course, the MLB parks stand on their own.
We know from marketing stats a third of our readers work in the baseball industry, so we're tapping into that collective expertise. And we know from our research that a third of our readers sell to the baseball industry, so that expertise will be valuable as well. The remaining third — fans, media, government — will certainly have a different view on things as well. We can't wait to see what our readers — whom we consider to be the smartest folks in baseball — say about the best of the ballparks.
Some notes on the voting, as we've overhauled our bracketing and voting system. First, you are allowed to vote multiple times, but you can only vote once per day. Second, you don't need to fill out a full slate: partially filled votes will count.
Here is our ranking of the top 32 independent ballparks. This is partially based on prior votes (last year's results in early rounds helped us pare this list from 50+ to 32) and partially based on our visits. Occupying the top spot is TD Bank Ballpark, home of the Somerset Patriots, the winner of the Best of the Ballparks 2016 voting. TD Bank Ballpark was also our 2015 winner, making for an amazing feat: we know from running this contest that it's really, really hard to repeat. Yes, we know there are some good independent ballparks aside from this 32, but we went back to last year's vote and adjusted this seeding to reward teams whose fans turned out to vote.
1. TD Bank Ballpark (Somerset Patriots; AtL)
2. CHS Field (St. Paul Saints; AA)
3. Shaw Park (Winnipeg Goldeyes; AA)
4. Constellation Field (Sugar Land Skeeters; AtL)
5. U.S. Steel Yard (Gary SouthShore RailCats; AA)
6. Regency Furniture Stadium (Southern Maryland Blue Crabs; AtL)
7. Clipper Magazine Stadium (Lancaster Barnstormers; AtL)
8. Jimmy John's Field (Birmingham-Bloomfield Beavers/Utica Unicorns/Eastside Diamond Hoppers/Westside Woolly Mammoths; USPBL)
9. Stade Canac (Quebec Capitales; Can-Am)
10. Boomers Stadium (Schaumburg Boomers; FL)
11. Community America Ballpark (Kansas City T-Bones; AA)
12. Haymarket Park (Lincoln Saltdogs; AA)
13. Palisades Credit Union Park (Rockland Boulders; Can-Am)
14. Sioux Falls Stadium (Sioux Falls Canaries; AA)
15. Bethpage Ballpark (Long Island Ducks; AtL)
16. The Depot at Cleburne Station (Cleburne Railroaders; AA)
17. Sprenger Stadium (Lake Erie Crushers; FL)
18. AirHogs Stadium (Texas Airhogs; AA)
19. Yogi Berra Stadium (New Jersey Jackals; Can-Am)
20. Bosse Field (Evansville Otters; FL)
21. PeoplesBank Park (York Revolution; AtL)
22. Rent One Park (Southern Illinois Miners; FL)
23. New Britain Stadium (New Britain Bees; AtL)
24. Wuerfel Park (Traverse City Beach Bums; FL)
25. Standard Bank Stadium (Windy City ThunderBolts; FL)
26. Mercy Field at Lewis & Clark Park (Sioux City Explorers; AA)
27. Newman Outdoor Field (Fargo-Moorhead RedHawks; AA)
28. GCS Ballpark (Gateway Grizzlies; FL)
29. CarShield Field (River City Rascals; FL)
30. Slammers Stadium (Joliet Slammers; FL)
31. The Corn Crib (Normal Cornbelters; FL)
32. Lawrence-Dumont Stadium (Wichita Wingnuts; AA)
AA = American Association
AtL = Atlantic League
Can-Am = Can-Am League
FL = Frontier League
USPBL = United Shore Professional Baseball League