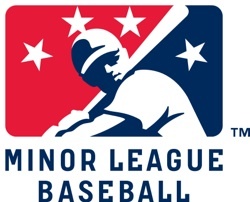 We have personnel news today from Minor League Baseball and the Stockton Ports (High A; California League).
With MiLB, Sean Brown has been promoted to Chief Financial Officer. Brown oversees all financial and accounting functions for Minor League Baseball. He is responsible for the development and implementation of the organization's financial strategy in connection with operating as the governing organization for 20 leagues and approximately 250 teams in the United States, Canada, Mexico and the Dominican Republic. Brown most recently served Minor League Baseball as Vice President, Finance. He is both a Certified Public Accountant and a Chartered Global Management Accountant. Prior to joining Minor League Baseball in 2012, Brown worked in public accounting for 14 years.
Jeff Lantz has been named Senior Director, Communications. Lantz oversees all of Minor League Baseball's communication activities including media requests, publications and outreach efforts. He joined the organization in December 2014 as Director, Communications after spending seven seasons with the Baltimore Orioles and 11 years with the Iowa Cubs.
James Dispanet has been named Controller. Dispanet maintains the day-to-day accounting functions for Minor League Baseball and its subsidiary companies, and serves as the point of contact for Minor League Baseball leagues and member clubs for financial reporting. Prior to joining the staff in March 2008 as Assistant Director, Accounting, he was an accountant in Virginia for 11 years.
Michelle Heystek has been promoted to Senior Accountant. Heystek records assets, liabilities, revenues and expenses for Minor League Baseball and its subsidiary companies. She also compiles and analyzes financial statements for Minor League Baseball and its subsidiary companies. Heystek joined the Minor League Baseball staff in February 2011 as Staff Accountant after working for 15 years as a bookkeeper.
Cory Bernstine has been promoted to Manager, Strategy & Analytics. Bernstine is the main point of contact on data-driven initiatives that support the development of league-wide marketing, fan development platforms and partnership sales of Minor League Baseball. He also maintains and enhances the relationships with MiLB research partners and manages the day-to-day operations of MiLB's national TV programming. Bernstine joined Minor League Baseball in January 2014 as Research Coordinator.
—–
In Stockton, Tim Pollack has been promoted to Assistant General Manager. Ports General Manager Bryan Meadows made the announcement.
"Tim's hard work and dedication to the organization, along with his relationships with current Ports partners and fans, made him an easy choice for Assistant General Manager," said Meadows. "I am excited to see Tim continue to evolve in our organization with this new role."
Currently, Pollack directs all ticket operations, and in his new position, he will continue to oversee the ticket department and sales efforts for the organization. With the promotion, Pollack will increase his role in the day-to-day managerial duties of the Ports.
Pollack will begin his eighth season in Minor League Baseball and sixth with the Ports this coming April. Prior to his time with the Ports, he spent two years with the Fresno Grizzlies (Class AAA; Pacific Coast League), where he began his front office career in Minor League Baseball.
Originally from Pittsburgh, PA, Pollack received his B.S. in Sport Management with a minor in Marketing from Slippery Rock University of Pennsylvania.
"In my new position, I look forward to the opportunity to take on a larger leadership role within the organization while continuing to grow the success of the ticket department," said Pollack. "With the support of our season ticket holders, community partners, and loyal fan base, I am pleased to take on the role of Assistant General Manager."