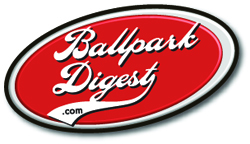 We have our two finalists for Best of the Ballparks in the summer-collegiate realm, with voters choosing Kokomo Municipal Stadium and Athletic Park.
The decisions by voters weren't particularly close, as fans chose the homes of the Kokomo Jackrabbits and Wisconsin Woodchucks by wide margins. This sets up an interesting matchup of Prospect League facility vs. Northwoods League matchup.
But that round is history. Below you'll find a form for submitting your votes (desktop users see the entire slate; mobile users see one poll question at a time). The second round of voting generated more than 14,000 respondents. So vote!
Voting is ended; the winner will announced Wednesday.
About Best of the Ballparks: we structured the voting by classification, so the competition is broken down into Triple-A, Double-A, High A, Low A, short season A, rookie, summer collegiate and independent brackets.
We know from our marketing/user research a third of our readers work in the baseball industry, so we're tapping into that collective expertise. And we know from our research that a third of our readers sell to the baseball industry, so that expertise will be valuable as well. The remaining third — fans, media, government — will certainly have a different view on things as well. We can't wait to see what our readers — whom we consider to be the smartest folks in baseball — say about the best of the ballparks.
Here's our list of the top 32 summer-collegiate ballparks:
1. Warner Park (Madison Mallards; Northwoods League)
2. Cardines Field (Newport Gulls; NECBL)
3. Fleming Stadium (Wilson Tobs; Coastal Plain League)
4. Dunn Field (Elmira Pioneers; Perfect Game League)
5. Wahconah Park (Pittsfield Suns; Futures League)
6. Holman Stadium (Nashua Silver Knights; Futures League)
7. Wade Stadium (Duluth Huskies; Northwoods League)
8. Kokomo Municipal Stadium (Kokomo Jackrabbits; Prospect League)
9. Simmons Field (Kenosha Kingfish; Northwoods League)
10. Lowell Park (Cotuit Kettleers; Cape Cod League)
11. Athletic Park (Wisconsin Woodchucks; Northwoods League)
12. Kiger Stadium (Klamath Falls Gems; West Coast League)
13. Homer Stryker Field (Kalamazoo Growlers; Northwoods League)
14. Clemens Field (Hannibal Cavemen; Prospect League)
15. Carson Park (Eau Claire Express; Northwoods League)
16. Witter Field (Wisconsin Rapids Rafters; Northwoods League)
17. Robin Roberts Stadium (Springfield Sliders; Prospect League)
18. Danville Stadium (Danville Dans; Prospect League)
19. Damaschke Field (Oneonta Outlaws; NYCBL)
20. Mulcahy Stadium (Anchorage Bucs; Glacier Pilots; Alaska Baseball League)
21. Goss Stadium at Coleman Field (Corvallis Knights; West Coast League)
22. Vince Genna Stadium (Bend Elks; West Coast League)
23. American Momentum Bank Ballpark (Brazos Valley Bombers; Texas Collegiate League)
24. Pat Thomas Stadium (Leesburg Lightning; Florida Collegiate Summer League)
25. McKeon Park (Hyannis Harbor Hawks; Cape Cod League)
26. Recreation Field (Vermont Mountaineers; NECBL)
27. Sims Legion Park (Gastonia Grizzlies; Coastal Plain League)
28. Seaman Stadium (Okotoks Dawgs; Western Major Baseball League)
29. Veterans Field (Chatham Anglers; Cape Cod League)
30. Old Mountain Field (Ocean State Waves; NECBL)
31. Murnane Field (Utica Brewers; Perfect Game League)
32. Fraser Field (North Shore Navigators; Futures League)
Figures in the brackets refer to percentage of votes cast.